Posted by: Loren Coleman on August 26th, 2009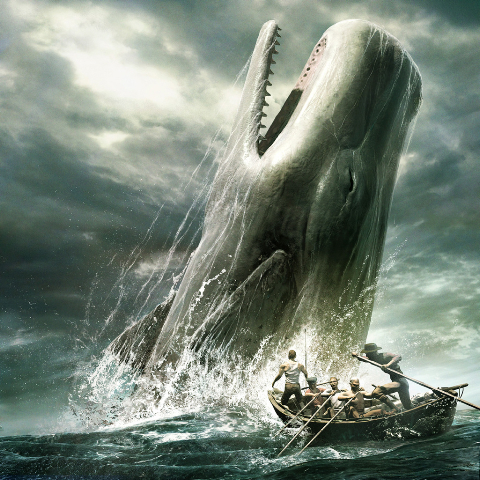 Moby Dick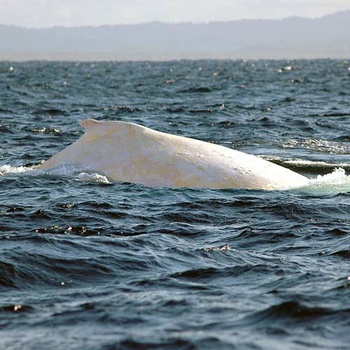 Migaloo, the albino humpback.
MonsterQuest: THE REAL MOBY DICK
Wednesday August 26th 2009 at 9PM Eastern / 8PM Central and Thursday August 27th 1AM E/2AM C on HISTORY
There have been stories for centuries about huge, aggressive albino sperm whales. They were immortalized by the classic novel "Moby Dick." These stories told of whales targeting ships and ramming them with their huge heads. Could stories like this be true? MonsterQuest heads to the world's oceans to investigate whether there is any truth to the theory that these white whales have become more aggressive.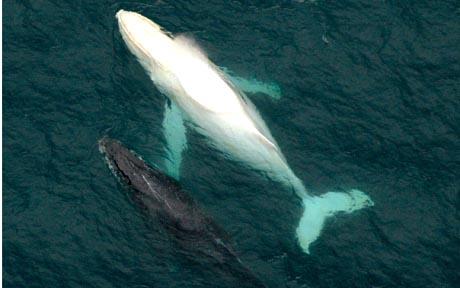 Migaloo, the pure white humpback whale, seen off Australia, near Coffs Harbour with another whale, Tuesday, June 15, 2005. (Sea Experience Charters, Greer Atkinson).
Earlier, they repeat…
MonsterQuest: Boneless Horror
Airs on Wednesday August 26 08:00 PM & Midnight
Throughout history there have been sightings of a massive Octopus big enough to attack and sink boats. Could such a creature really exist? Our divers probe the depths of the North Pacific where the world's largest known species of octopus lives. Could these octopuses be a food source for a monster? The investigation will use various underwater camera systems, including a tiny camera small enough to probe inside octopus lairs. Deep waters, rough currents, freezing temperatures and the prospect of encountering a 20-ton boneless horror make this a dangerous expedition.
Loren Coleman – has written 5489 posts on this site.
Loren Coleman no longer writes for Cryptomundo. His archived posts remain here at Cryptomundo.