Posted by: Loren Coleman on January 15th, 2012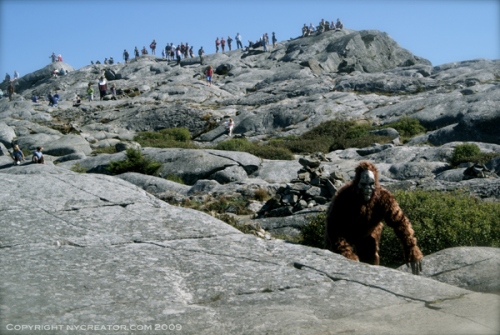 You may remember the story from 2009. The NH Supreme Court's ruling has been handed down.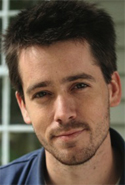 Artist, without the Bigfoot costume, who sued, based on his right for freedom of speech.
The Nashua Telegraph published news of the court ruling:
It's OK to make a goofy film about Bigfoot on Mount Monadnock without a state permit despite New Hampshire regulations, the state Supreme Court has ruled.
But that's only because the peak in Jaffrey is so well known that it constitutes "a traditional public forum," where free speech is especially protected.
That ruling was handed down Friday morning in the much publicized case of Jonathan Doyle, a self-described performance artist who in September 2009 walked around the bustling peak of Mount Monadnock wearing a $40 Bigfoot costume and videotaped interviews with hikers describing their sightings of him.
He put the video on YouTube and drew some attention. But when Doyle, 31, of Keene, returned to make a follow-up video, staff at Monadnock State Park said he needed a state permit to film a movie in the park.
The permit required a $100 fee and a $2 million insurance policy that covers the state of New Hampshire. It had to be applied for at least 30 days in advance.
Doyle sued, saying the requirement was an unconstitutional limit on his freedom of speech, and he promptly drew a whole lot more attention.
Read the rest of the story, here.
Loren Coleman – has written 5489 posts on this site.
Loren Coleman no longer writes for Cryptomundo. His archived posts remain here at Cryptomundo.