Posted by: Loren Coleman on May 18th, 2006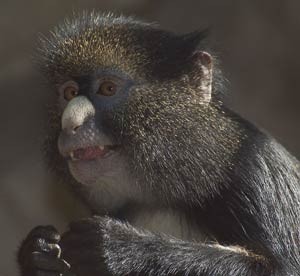 Dolphins give each other names, and now we learn that monkeys talk in sentences. What do these new findings have to say about all those thoughts of humans being the only animals that have a "language"? And thus, by extension, that Sasquatch/Bigfoot with language "must" mean they are more human, as per John Kirk's posting about the talking Sasquatch of Harrison Hot Springs?
This new primate research is very specific:
Monkeys are able to string together a simple "sentence", according to research that offers the first evidence that animals might be capable of a key feature of language.
British scientists have discovered that the putty-nosed monkey in Nigeria pictured above sometimes communicates by combining sounds into a sequence that has a different meaning from any of its component calls, an ability that was thought to be uniquely human.
The putty-nosed monkeys, Cercopithecus nictitans, of the Gashaka Gumti National Park, have two main alarm call sounds. A sound known onomatopoeically as the "pyow" warns other animals against a lurking leopard, and a cough-like sound that scientists call a "hack" is used when an eagle is hovering near by.
For the entire article, see The Times of London, "Pyow pyow pyow . . . hack hack hack hack! Let's get out of here (in monkey talk)", May 18, 2006.
Loren Coleman – has written 5489 posts on this site.
Loren Coleman no longer writes for Cryptomundo. His archived posts remain here at Cryptomundo.