Posted by: Loren Coleman on April 18th, 2010
There has been a new sighting of a monk seal in the waters off southern Europe. Below find that record, but an earlier one from 2008: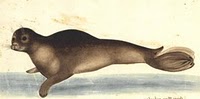 Rome- An extraordinary sighting of monk seals in the waters of the island of Marettimo, the Sicilian island that is part of the marine reserve of the Egadi islands off the coast of Trapani, has been announced by the Ministry for the Environment. The first sighting was on March 31 [2010] by a local fisherman who saw a monk seal near the Grotta del Cammello, which was home to the species 30-40 years ago. Locals say that over the following days there was a sighting of two adult monk seals, presumably male, female and seal cub. (ANSAmed)
From 2008:
The sighting of a monk seal in the waters of the National Park of the Maddalena Archipelago (Sardinia, Italy), made two days ago, was reported in [the March 6, 2008] issue of La Nuova Sardegna, a local newspaper.

The seal, a young specimen only about 1.5 m long, was reportedly seen cavorting underwater around two skin divers without any trace of fear. One of them, Fannino Curreli – an experienced local diver – expressed no doubts about the identification of the species.

Monk seals, frequent in Sardinia until about 50 years ago, today have almost completely disappeared from the entire western Mediterranean, and sightings in Sardinia are now an extremely rare occurrence. If confirmed, the appearance of a monk seal off La Maddalena is encouraging because it indicates that these rare mammals could one day make a comeback if undisturbed.

Mediterranean monk seals were exterminated by direct killings, excessive fishing and pervasive human disturbance, and have now become one of the most endangered of the planet's mammals. It is thought that only 350-400 specimens of the species still exist in the entire Mediterranean Sea, mostly in Greek and Turkish waters.
The Mediterranean Monk Seal (Monachus monachus) is a pinniped belonging to the Phocidae family. At some 350-450 (fewer than 500) remaining individuals it is believed to be the world's second rarest pinniped (second only to the Saimaa Ringed Seal), and one of the most endangered mammals in the world. It is present in parts of the Mediterranean Sea and the Eastern Atlantic Ocean waters around the Tropic of Cancer as well.
Loren Coleman – has written 5489 posts on this site.
Loren Coleman no longer writes for Cryptomundo. His archived posts remain here at Cryptomundo.