Posted by: Loren Coleman on February 24th, 2008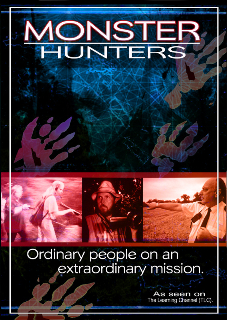 Before "Monster Quest," "Legend Hunters," "Ghost Hunters," "Mystery Hunters," and "Destination Truth," there was Peter von Puttkamer's "Monster Hunters" on television. It was a series that was one of the first cryptozoology "hunt" or "search" shows featuring groups of actual cryptozoologists or monster hunters filmed in the field.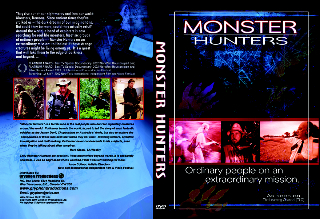 Now, after years of anticipation, "Monster Hunters" has been released on DVD.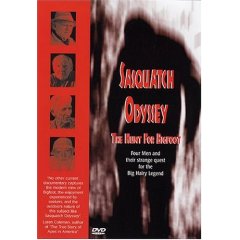 For those unfamiliar with the series, you may be more aware of Peter von Puttkamer's earlier, award-winning, feature length motion picture, Sasquatch Odyssey: The Hunt for Bigfoot. The film is famous for its profiles of the "Four Horsemen of the Sasquatch Hunt" – i.e. Rene Dahinden, John Green, Grover Krantz, and Peter Byrne. Two of the "Four Horsemen" are no longer with us, and this documentary serves as a unique time capsule of hominology.
When I was teaching my documentary film course during the decade of the 1990s and into this century, I had my university purchase a couple copies of Sasquatch Odyssey for the college's library and AVA services, as well as buying the rights to broadcast it on the ITV cable system. It is such an excellent documentary on many levels, I used it for almost 20 semesters.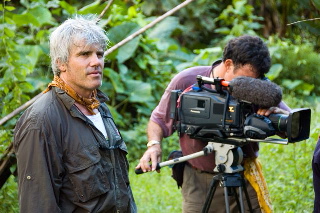 Filmmaker Peter von Puttkamer (left) in Ecuador during the filming for "Peyote to LSD," which airs on History Channel on April 20th, 2008..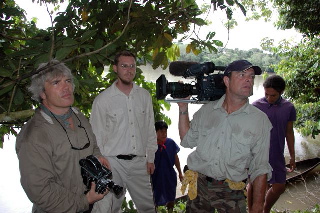 The Ecuador film crew includes director Peter von Puttkamer (left), Matt Ritchie (center), and Bill Mills (right).
Peter von Puttkamer is currently working on a High Def Discovery Channel – Mutual of Omaha's "Wild Kingdom" special, with BBC and CBC co-production in the Peruvian Amazon. It's about the work of biologist Mark Bowler for England's Durrell Institute and the Bronx Zoo's "Wildlife Conservation Society," and their work at the Lago Preto site deep in the Amazon along the Colombian-Brazilian border.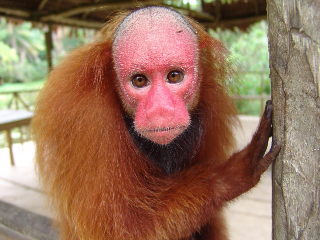 The filming involves a four-day river boat trip to the preserve, where he will feature the key study species – the uakari red-faced monkey, also known as the Bald Uakari, the Red Uakari, and the Bald-headed Uakari (Cacajao calvus) – which he calls "one of the strangest primates in the world – with a paddle-like tail, shaggy red fur, bald head – and on the big males- huge bulging head muscles (to drive the nut and seed chomping jaws)."
Other animals there include the pink river dolphins, tapirs, jaguars and giant river otter. Peter von Puttkamer and his film crew are going back to do more filming in the flooded forest season in late April.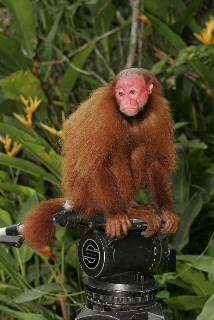 He shares with Cryptomundo these photos of a Cacajao calvus – found at an orphanage in the jungle – and the following photo showing the filmmaker (Homo sapiens) in the rainforest in pursuit of these monkeys.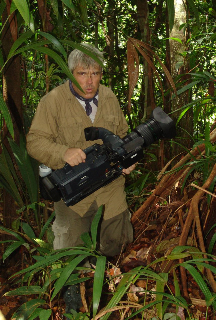 Loren Coleman – has written 5489 posts on this site.
Loren Coleman no longer writes for Cryptomundo. His archived posts remain here at Cryptomundo.