Posted by: Loren Coleman on October 25th, 2007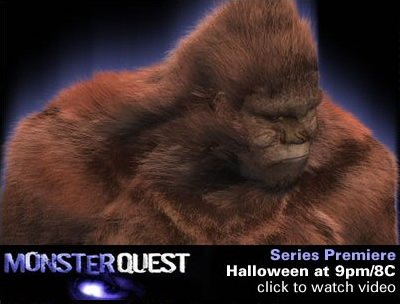 During the year, the crew from this show came to Maine, Texas, and a lot of other places across North America. Don't be surprised if you see some familiar faces in this series, including people you know in the first mini-documentary ever about an all-women Bigfoot expedition.
Monsterquest, which debuts this fall, will take a scientific look at "creature" sightings around the world. History announced its 13-episode order for Monsterquest. There will be episodes on "monsters" such as Bigfoot, the Loch Ness Monster, Swamp Beast and the Creature of Snellgrove Lake.
The series — described as one part history, one part science and one part monsters — is the latest addition to the network's schedule under general manager Nancy Dubuc and the senior vice president of development and programming she recruited, Discovery Networks veteran David McKillop.
The History Channel
Wednesdays at 10pm/9c. Premieres October 31, 2007. (60 min.)
The program goes in search of monsters real, man-made, and imagined. Each episode is a mini-expedition to find and understand the monster – giant fish that menace swimmers in the Great Lakes, werewolves, man-eating birds and the super soldiers that Stalin's scientists tried to engineer by crossing humans with apes. Eeek!
For clips and links, click and see:
Loren Coleman – has written 5489 posts on this site.
Loren Coleman no longer writes for Cryptomundo. His archived posts remain here at Cryptomundo.