Posted by: Loren Coleman on October 13th, 2007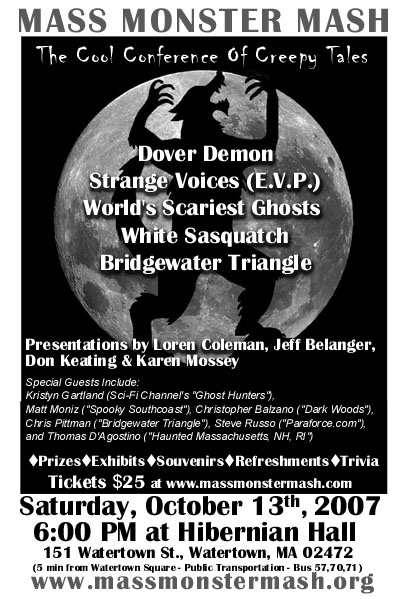 I'm on the road again. This time I am at the "Mass Monster Mash," in Watertown, Massachusetts, on Saturday, October 13, 2007, giving an illustrated (almost 50 images) on the Dover Demon. I also will be talking to folks, and selling/signing books. Since others there are speaking on Bigfoot, the Bridgewater Triangle, and Phantom Clowns, I'll have some things to say about those topics too, outside my keynote hourlong illustrated lecture.
I will have a few new copies of the 2007 edition of Mysterious America with me. I also will bring along some copies of The Copycat Effect, Tom Slick: True Life Encounters in Cryptozoology and The Field Guide to Bigfoot and Other Mystery Primates.
And a surprise. While I was moving around boxes in storage last week, I came across a small shipment of Cryptozoology A to Z: The Encyclopedia of Loch Monsters, Sasquatch, Chupacabras, and Other Authentic Mysteries of Nature from 1999, which had been lost. I gave one away to the International Cryptozoology Museum's two new docents, Jeff and Jess Meuse, who were helping me. Now, the attendees at the Mass Monster Mash will get the first crack at the rest of the books.
Loren Coleman – has written 5489 posts on this site.
Loren Coleman no longer writes for Cryptomundo. His archived posts remain here at Cryptomundo.