Posted by: Loren Coleman on May 11th, 2009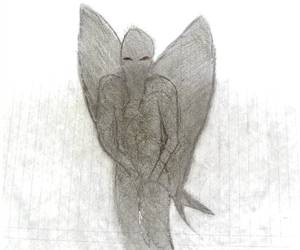 The Mexican State of Chihuahua was terrorized by the above Man-Bat during the winter of 2009.

Mothman Sightings Linked To Swine Flu?
PORTLAND, Maine (Wireless Flash – FlashNews) – Are strange sightings of the Mothman in Mexico connected to the swine flu outbreak?
That's what cryptozoologist Loren Coleman is investigating after hearing that various sightings of the cryptid in Mexico surfaced before the H1N1 virus struck.
The last sighting occurred on March 9, 2009, about a month before the virus hit and killed dozens.
The creature was sketched by witnesses in rural Mexico – the same place where the swine flu originated – and was dubbed "Man Bat."
Though he believes there have been about 30 [sic] Mothman sightings in Mexico over the last few months, Coleman says it's not necessarily a case of "cause and effect," but rather something worth noting.
He says the Mothman has been linked to a curse since 1966, and more than 83 people have died after brushes with the creature.
He believes the Mothman is one of the most mysterious cryptids and often causes a "negative psychological impact" on people.
Coleman himself has had light bulbs in his home burst after doing interviews about the Mothman.
Released Monday, May 11, 2009 from the California headquarters of Wireless FlashNews.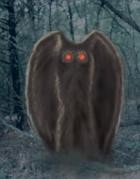 Mothman cover image by artist Bill Rebsamen, from Mothman and Other Curious Encounters. © Loren Coleman/William Rebsamen 2002.
Consider a contribution today, and merely click to…
Thank you
Loren Coleman – has written 5489 posts on this site.
Loren Coleman no longer writes for Cryptomundo. His archived posts remain here at Cryptomundo.