Posted by: Loren Coleman on August 27th, 2009
The newest issue of Fortean Times #253, besides having good, comprehensive coverage of the new book Outbreak!, has a feature that reminds me we've had a virtual outbreak of Mothman toys in recent years.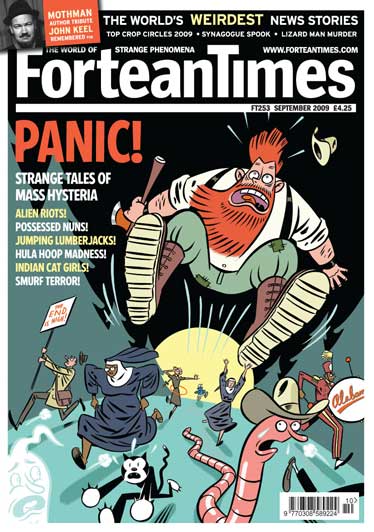 In the September 2009 issue is a good tribute article on John A. Keel by Doug Skinner. Doug does an excellent job painting a picture of John's last few years, and gives a look inside everything from the famed writer's apartment to his final days.
One note by Doug caught my eye. He mentions that John kept a small collection of Mothman memorabilia in his apartment, including a couple of the items sold in Point Pleasant (e.g. a small cloth doll and a Christmas ornament).
Reflecting on that one line, there certainly has been an explosion of Mothman toys, dolls, and replicas, which have appeared since the 2002 movie's drumbeat began the year before.
To think there would be sets of toys, with one including a Mothman, a Chupacabras, and a Jersey Devil or another with a Mothman and the Flatwoods Monster, could hardly be imagined 40 years ago.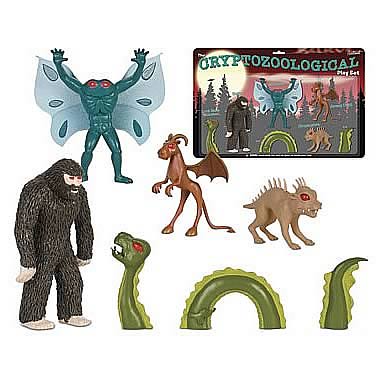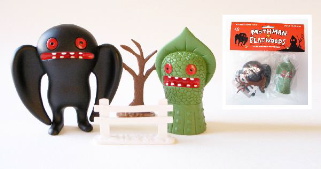 Even the Japanese have produced an outstanding little replica, which looks the most like the original descriptions of Mothman: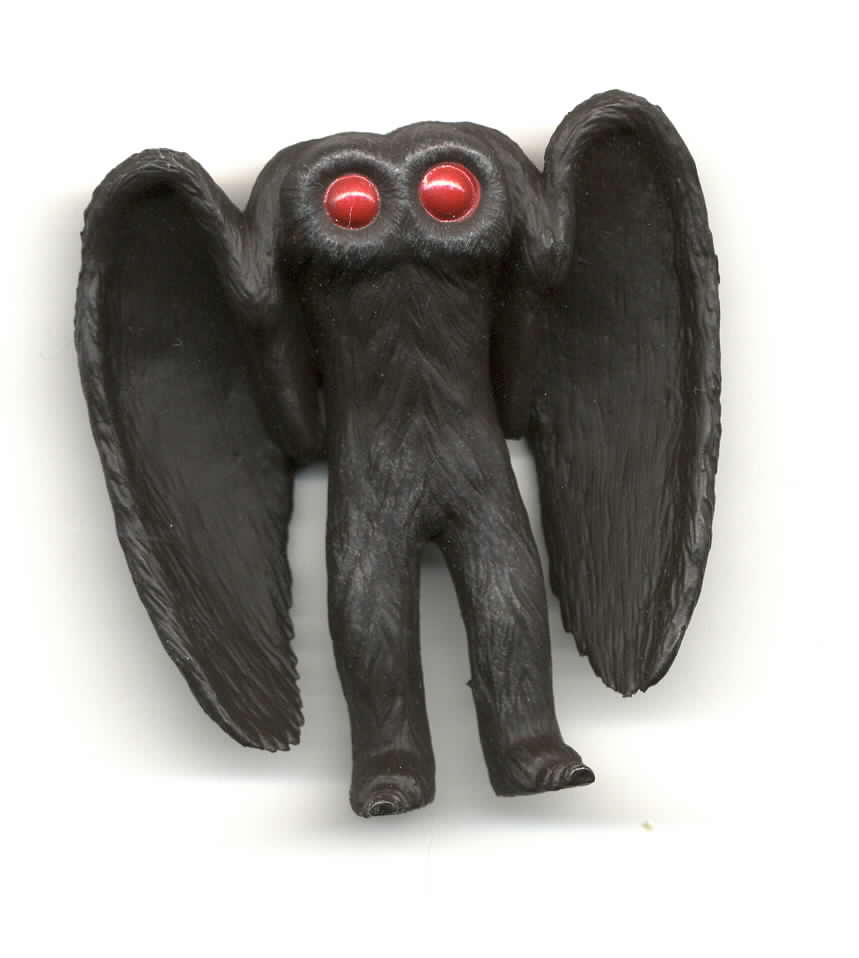 Concurrently, an evolution of Mothman dolls has occurred. They were first put out late in 2001 by the Point Pleasant Chamber of Commerce, to take advantage of the coming movie.
John and I got the original model.
Below you can see that one first, followed by two others. Fortean investigator Christopher Gardner has kindly forwarded a photograph of the one in his collection, shown here in the middle. The bottom guy is the newest one, called a Mothman Plush (which I still need for the museum).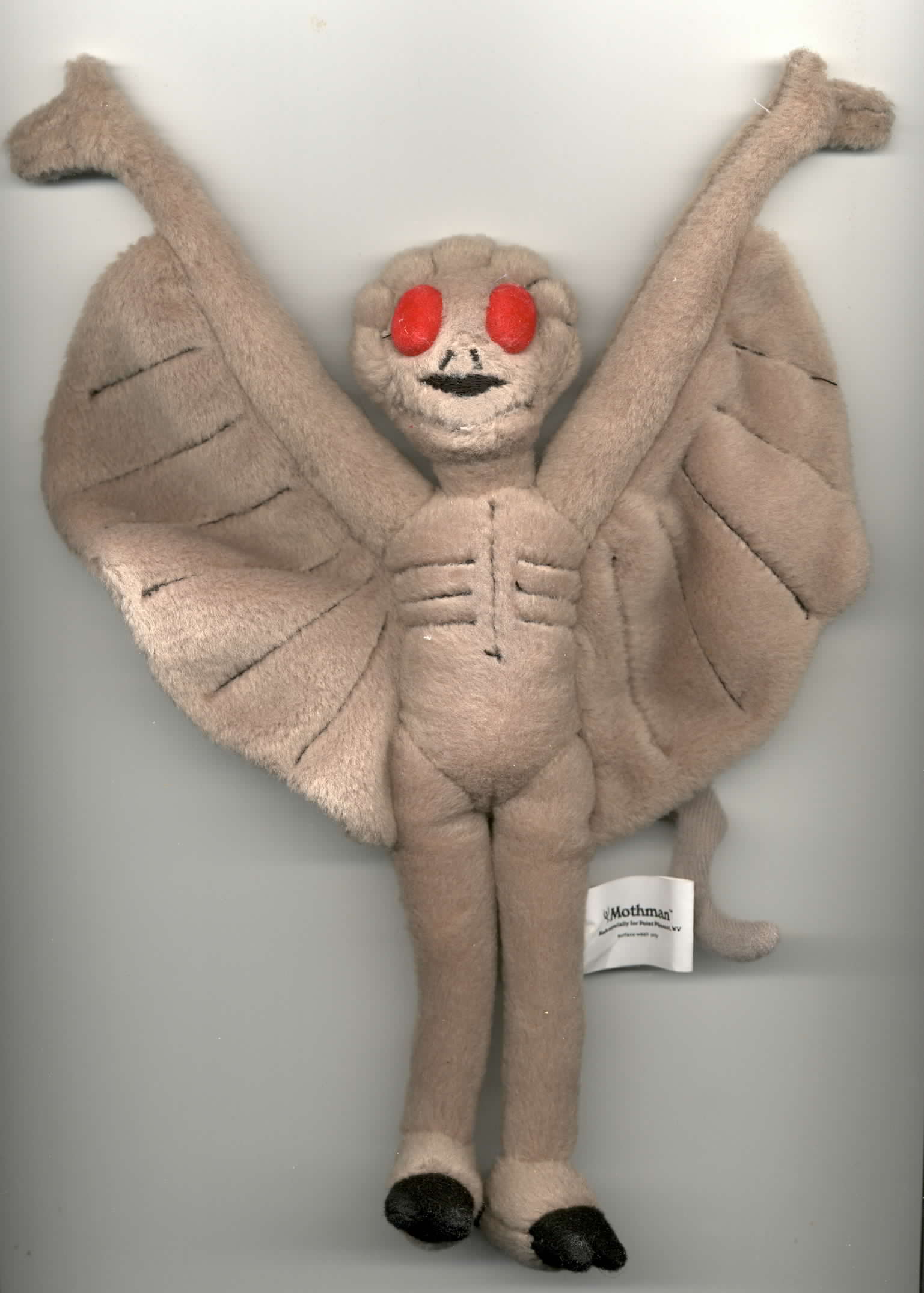 Intriguingly, arms were added on these first two dolls, a feature not reported on the real Mothman of 1966-1967. But in 21st century interviews for reality television, the feature of "arms on Mothman" is a new characteristic heard more and more. Nowadays, this turns up in "remembered sightings" from those days, even though they were not mentioned in the 1960s. Could this be a case of toys "leading the contemporary eyewitnesses"?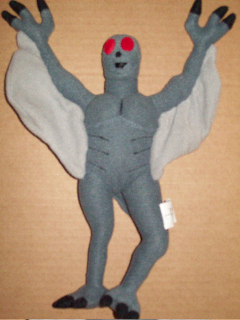 The newer model has a bulkier posture to it, actually being truer to the original sightings. Well, except for that nose. From where did that come from? Likewise, no good observations were ever made of Mothman's feet, so the recent dollmaker's creation of hooves, three toes, and feet is pure fantasy.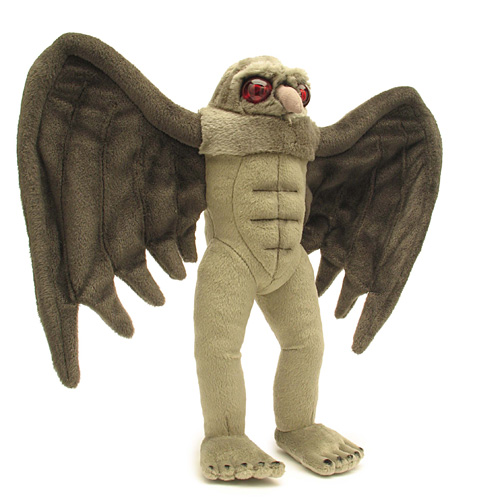 What's your favorite Mothman item? Share the ones in your collection.
Loren Coleman – has written 5489 posts on this site.
Loren Coleman no longer writes for Cryptomundo. His archived posts remain here at Cryptomundo.