Posted by: Loren Coleman on August 13th, 2009
History Channel on Wednesday, August 12th, repeated six MonsterQuest episodes and then screened the never-before-broadcast program, "Killer Chimps."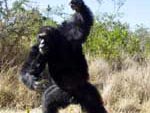 What did you think of the episode?
MonsterQuest: Killer Chimps in America
Airs on Wednesday August 12 09:00 PM & Friday August 13 01:00 AM
Chimpanzees are known to us as amusing circus attractions and are even popular as pets, but when they attack the results are frightening and horrific. Just as disturbing, across the U.S., witness reports suggest that chimpanzees may be on the loose. In the 1920s and 30s, chimps were common in Florida as part of road side carnivals and zoos, but in some cases these animals were let loose or escaped. Today, not only are attacks from pet chimps on the rise, but witnesses in Florida describe encounters with what may be wild chimpanzees. Now, MonsterQuest trackers and primatologists investigate how vicious chimps can actually get, and whether the environment could sustain these primates by searching the swamps and wilderness for a population of wild chimps in America.
WARNING: This episode contains a few descriptions and images which may be disturbing to some individuals.
Loren Coleman – has written 5489 posts on this site.
Loren Coleman no longer writes for Cryptomundo. His archived posts remain here at Cryptomundo.