Posted by: Loren Coleman on April 20th, 2009
I've returned from Mount Washington, rested and refreshed, and will be going back next weekend to sit, sell, and sign books only (mostly on Saturday, April 25th). But in the meantime, I thought I'd post the following link and some photos, courtesy of comedian Mike Brody.
Brody's took on a mammoth task to interview me. He wrote up his very funny "Profile: Cryptozoologist Loren Coleman." Please go there, for the full interview. Here are some snippets.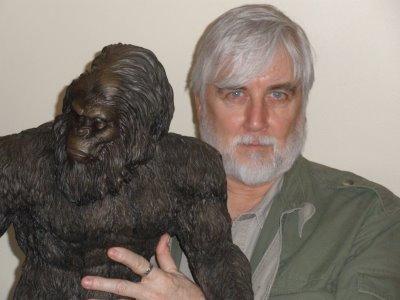 Mike Brody photo, taken by Mike Brody.
Who would win in a fight: Loren Coleman or The Loch Ness Monster?: (Long pause followed by a cough and an expectant look in the eyes.)
Oh, I'm sorry. Who would win in a fight: L.C. or The Loch Ness Monster?: The Loch Ness Monster is a very powerful animal and isn't as intelligent as me. (Honestly, I've stared at this answer on paper for about 45 minutes and can't figure out what the hell it means. Maybe it means that he would be overpowered by Nessie in a physical battle, but could own him at Scrabble?)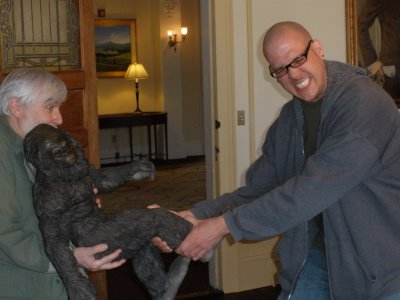 Mike Brody photo, taken by Caleb Cone-Coleman.
A small squabble ensued where I tried to run off with L.C.'s two-foot Sasquatch. His eyes turned red like a chupacabras and he clasped on for dear life with the strength of a Jane Goodall chimp. Years of wrestling Loch Ness Monsters finally paid off, because he bested me. You've won this battle, Loren Coleman. But not the war!
Cryptozoology: 1
Mike Brody: 0
Mike Brody's "blog."
Loren Coleman – has written 5489 posts on this site.
Loren Coleman no longer writes for Cryptomundo. His archived posts remain here at Cryptomundo.