Posted by: Loren Coleman on January 27th, 2009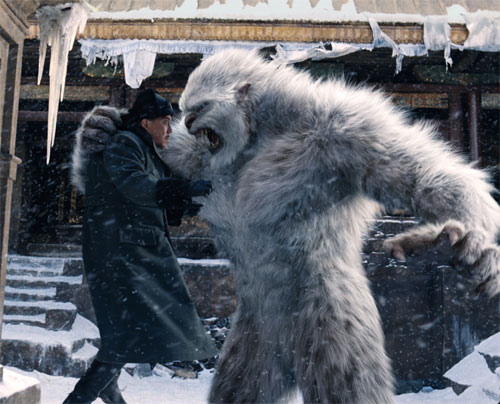 When I was out on the Queen Mary, I was delighted that Colbert Fennelly, who has worked with Disney, came over and introduced himself during my cryptozoology appearance and talk. We had a nice chat about monsters in the movies.
Fennelly is an animator, and leads his own division/company that has been involved in some good projects. For example, he is currently the "Animation Layout & Support Lead" on the forthcoming The Land of The Lost (2009) at Rhythm & Hues.
He wanted to share with me, and thus indirectly the folks at Cryptomundo, a sort of "inside joke" the crew had about the Yetis on a recent movie. As the "Animation Layout & Support Lead" during The Mummy: Tomb of the Dragon Emperor (2008), Colbert Fennelly and his team designed the CG Yetis and the Yeti army scenes.
Fennelly told me the Yetis were all distinctive and different, with the three leads having red, white, and blue eyes. In tribute to their patriotic nature, the crew named them Tom, Ben, and George, after Thomas Jefferson, Benjamin Franklin, and George Washington.
Loren Coleman – has written 5489 posts on this site.
Loren Coleman no longer writes for Cryptomundo. His archived posts remain here at Cryptomundo.