Posted by: Loren Coleman on May 15th, 2009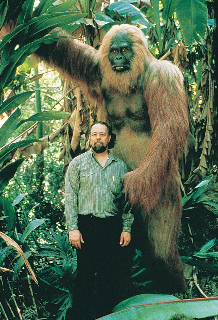 It is tell to talk about The Munns Report by wildlife artist, 3D computer graphics professional, exhibition creator, digital character lip sync animation software inventor, and cinema special effects designer Bill Munns; here he is shown with his museum-quality, academically-acclaimed reconstruction of Gigantopithecus.
In one of the most anticipated talks of the Yakima Bigfoot Round-Up, Bill Munns stepped forward to speak at 7:00 PM Pacific time to give his initial insights into his research on the Patterson-Gimlin footage of an alleged Sasquatch.
Before Munns left for the weekend conference, he sent me his research links, and granted permission for Cryptomundo to post concurrently as he delivered his presentation.
Munns emailed the following message earlier in the week, but asked for it to be held until his talk:
"I'll be announcing the release of some new research into the Patterson film, at that event, and giving the website link for people to read through the new material. This new material may substantailly revise the way we think through the Patterson film, because of some elements I've discovered about the filming….My sincere hope is that [my work, The Munns Report] will at least inspire people of scientific and academic knowledge who are outside either forum (e.g. the JREF and BFF forums) and in the mainstream populace to look into the film and the issues. That alone, to bring more mainstream scientists and academics into the discussion, would be a worthy accomplishment. ~ Bill Munns"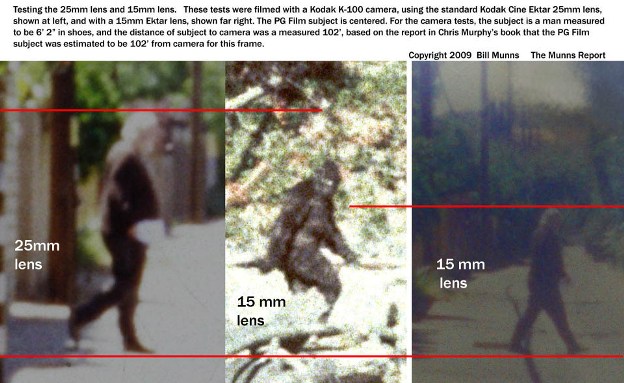 Click on the above for larger versions of these comparative images.
Bill Munns' research work is shared in the following new location: The Munns Report.
A quick overview of The Munns Report reveals that Bill Munns' expertise has been brought to bear for an intensive level of varied analyses, with these highlights:
1) Munns has constructed a more in-depth modeling of the Bluff Creek filmsite than has ever been created before;
2) He has come to the "conclusion that the lens Roger Patterson had on his camera that day was a 15mm lens, not the generally presumed 25mm lens";
3) Due to the impact of the lens verification and realization, while analyses are ongoing, the "data accumulated thus far is highly consistent and has yielded preliminary estimates…that…indicates a height of about 7′ 4″ for the figure, as posed, in Frame 352″;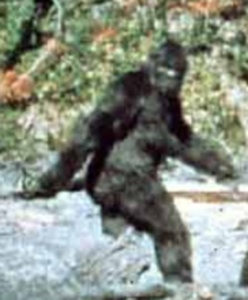 4) Further work by Bill Munns continues, specifically in "establishing a real world dimensional scaling of the model, and establishing a path walkway location of the subject, [which] will allow for a calculation of distance from subject to camera, at various designated frames";
5) Finally, Munns gladly invites "the test of peer review and independent analysis by others."
The above is a brief summary only, of course. It is highly recommended that a deeper reading of The Munns Report (pdf) occur by all who wish to critique Bill Munns' beginning analyses related to the Patterson-Gimlin footage.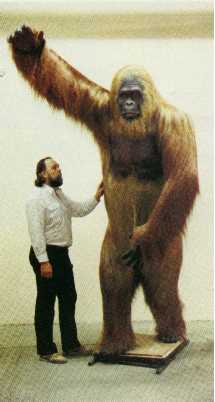 For the early predictions by some that Bill Munns was going to be producing ground-breaking evidence at the Yakima conference "proving" that the alleged Bigfoot in the Patterson-Gimlin footage was "real," it certainly will not be found in these preliminary findings.
Loren Coleman – has written 5489 posts on this site.
Loren Coleman no longer writes for Cryptomundo. His archived posts remain here at Cryptomundo.