Posted by: Loren Coleman on November 30th, 2009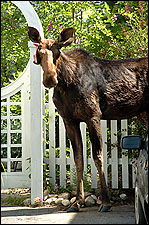 Moose (North America) or common elk (Europe), (Alces alces), are the largest existing species in the deer family.
Swedish police said on November 29th that they've cleared a man who was arrested for allegedly murdering his wife after deciding the culprit was most likely a moose, according to the Associated Press reporting from Stockholm.
Police spokesman Ulf Karlsson says "the improbable has become probable" in the puzzling death last year of Agneta Westlund.
Ingemar Westlund, aged 68, found the dead body of his wife Agneta, 63, by a lake close to the village of Loftahammer in September 2008. She had gone out to stroll with her dog. The victim's husband, Ingemar Westlund, was jailed for 10 days. The case against him was dropped in January 2009.
Karlsson declined to give details of the case over the weekend, saying a news conference would be held Tuesday, December 1, 2009.
The tabloid Expressen says hairs and saliva from a moose, which in Europe are actually called elk, were found on the victim's clothes. Police would not immediately confirm this report.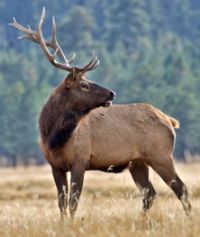 A few blogs, based on the images they are using, are incorrectly pinning this murder on an American elk or wapiti (Cervus canadensis), shown above. But the moose, Alces alces, would be the species that is the primary suspect.
Loren Coleman – has written 5489 posts on this site.
Loren Coleman no longer writes for Cryptomundo. His archived posts remain here at Cryptomundo.