Posted by: Loren Coleman on March 5th, 2011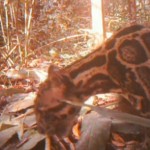 The Sunda clouded leopard (Neofelis diardi), also known as the Sundaland Clouded Leopard, is a medium-sized wild cat found in Borneo and Sumatra. In 2006, it was classified as a separate species, distinct from its continental relative Neofelis nebulosa. In 2008, the IUCN classified the species as vulnerable, with a total effective population size suspected to be fewer than 10,000 mature individuals, and a decreasing population trend. The first documented film of a Sundaland clouded leopard was taken in June 2009 in Sabah.
Previously, the species was known as the Bornean clouded leopard — a name publicized by the WWF in March 2007, quoting Dr. Stephen O'Brien of the U.S. National Cancer Institute as saying, "Genetic research results clearly indicate that the clouded leopard of Borneo should be considered a separate species."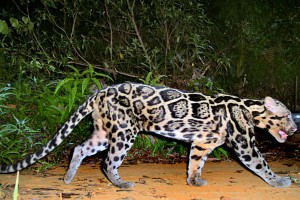 A handout photo taken on June 13, 2009 and released on January 22, 2011 shows a Sunda clouded leopard from Borneo taken by an automated camera-trap set up by the Conservation of Carnivores in Tangkulap Forest Reserve on Sabah. The photo was distributed with the news that the animal was a separate species.

A still from new footage of the Sunda leopard in Sumatra, 2011
Now, on March 5th, 2011, comes news that this rare and elusive big cat designated as a separate species just four years ago has been filmed in Sumatra for the first time.
The camera-shy Sunda clouded leopard has finally been snapped by a camera trap in Indonesia's Berbak National Park on the island of Sumatra. The 22-second-long video footage shows the rare cat snaking its way through the dense jungle undergrowth.
The local names, Macan Dahan in Indonesian and Harimau Dahan in Malay (also reported historically in Sumatra), mean "tree branch tiger."
First footage from Borneo, taken in 2009, released in 2010.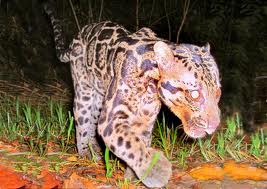 Loren Coleman – has written 5489 posts on this site.
Loren Coleman no longer writes for Cryptomundo. His archived posts remain here at Cryptomundo.