Posted by: Loren Coleman on March 19th, 2009
Cryptomundo correspondent José Quintino Montenegro has forwarded a translation of some breaking news with the headline, "New Species Discovered in Peru," for 03/19/2009.
The following is that material, edited for smoothness and with background info added:
Scientists have discovered new species of a plant and animals in Peru.
Scientists announced on Thursday, 19 March 2009, the discovery of four new species, one of a plant and three of animals, in the dense forests of the White Mountain Range, in Peru.
Three of the species found are new definitely new: a plant of the Andean highlands (Senecio sanmarcosensis) and two insects (Eriopis canrash and Cycloneda andresii).
The scientists also found in Peru a small mouse (Akodon sp. nov.), which is probably a new species. The small rodent of the genus Akodon measures less than nine centimeters in length (about 3 ½ inches) and its tail measures about 6,5 centimeters (circa 2 ½ inches). It lives between 2,880 and 4,730 meters above sea level and is found only in the area of Ancash, in the northwest of Peru. It plays an important part in the control of insects and in the dispersion of seeds in the ecosystem where it lives.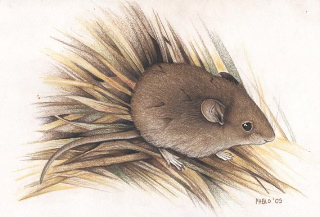 Akodon is a genus consisting of South American grass mice. Grass mice are found throughout South America, but the genus is absent from the Amazon lowlands, west of the southern Andes, and from extreme southern South America. Akodon is one of the most species-rich genera of Neotropical rodents. Species of Akodon are known to inhabit a variety of habitats from tropical and tropical moist forests to altiplano and desert. They are commonly not called "grass mice" but akodonts.
The new plant Senecio sanmarcosensis is part of the vegetation of the swamps in the Andean highlands. It purifies the water that comes from the mountain and acts as a water reservoir. The plant blossoms between May and July and it is only found in three places of the area of Ancash, above 4,500 meters of altitude.
The scientists think the plant should be included in the category of "Almost Threatened," according to the parameters of the Red List of the World Union for Nature (IUCN, acronym in English), since it only found in small areas that suffer the pressure of intensive pasturing.
Two other insects are also part of the discoveries: Eriopis canrash and Cycloneda andresii that control populations of giant fleas and acaroids (mites) responsible for the destruction of plantations that are very important for the survival of the people in that area.
The discoveries were made during a series of expeditions in the White Mountain Range between 2005 and 2008, which were led by the Association of Andean Ecosystems (Ecoan, the acronym in Spanish), in partnership with the NGO International Conservation.

Thank You.
Loren Coleman – has written 5489 posts on this site.
Loren Coleman no longer writes for Cryptomundo. His archived posts remain here at Cryptomundo.