Posted by: Loren Coleman on November 27th, 2007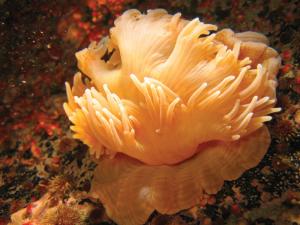 One of the new anemones. Photo courtesy of Stephen Jewett.
A couple newly discovered species don't talk but they apparently "walk!"
Unlike most sea anemones that attach themselves to the sea floor, two possibly new species found in the waters surrounding the Aleutian Islands near Alaska can swim and walk. The employment this mode of travel when feeding, it appears.
Scientists discovered the anemones as well as a new species of kelp as part of a two-year scientific survey of the waters around the Aleutians.
"Since the underwater world of the Aleutian Islands has been studied so little, new species are being discovered, even today," said Stephen Jewett, a marine biologist at the University of Alaska, Fairbanks, and the dive expedition leader.
The researchers are consulting experts to verify the Aleutian anemones are in fact new species, but the consensus so far is that they are.
(Xinhuanet, November 26, 2007; Science Daily, November 2, 2007)
Loren Coleman – has written 5489 posts on this site.
Loren Coleman no longer writes for Cryptomundo. His archived posts remain here at Cryptomundo.