Posted by: Loren Coleman on September 21st, 2010
The Yeti hasn't been formally recognized. A new gorilla or chimp species hasn't been found in deepest Africa. A new species of orangutan has not issued from Asia. But the breaking news today that a new species of ape, indeed, that a new species of gibbon has been recognized, is quite remarkable on its own merits. Like orangutans, gorillas, chimpanzees and bonobos, gibbons belong to the apes, man's closest relative.
German scientists have announced on September 21, 2010, that they had discovered a new rare and endangered ape species in the tropical rainforests between Vietnam, Laos and Cambodia. It has been identified by its distinctive song.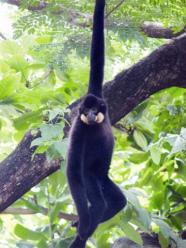 The new type of crested gibbon (photo above) is named the northern buffed-cheeked gibbon (Nomascus annamensis), noted the statement from the German Primate Center (DPZ) said.
"The discovery of a new species of ape is a minor sensation," said Christian Roos from the DPZ. "An analysis of the frequency and tempo of their calls, along with genetic research, show that this is, in fact, a new species."
The distinctive song "serves to defend territory or might even be a precursor of the music humans make," the statement added.
The DPZ said that the male of the new species is covered with black fur that appears silver in sunlight, while the females are orange-beige. The male's chests are brown and male cheeks are deep orange-golden.
The range of the crested gibbons is in an area enclosing Vietnam, Laos, Cambodia and southern China. Scientists had assumed there were six different species but the recent discovery takes the number to seven. (Various other crested gibbons are pictured below.)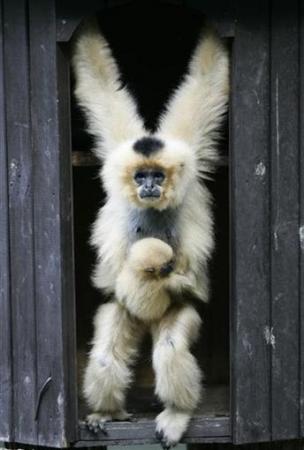 Many species number only around 100 individuals, said Roos. Scientists currently have "absolutely no idea" how many of the new species might be alive, but are conducting further study to determine this, he told AFP.
"Only if we know where which species is found and how many individuals there are can we start with serious conservation actions," summarized DPZ's Christian Roos.
News of the discovery was published in the Vietnamese Journal of Primatology.
Loren Coleman – has written 5489 posts on this site.
Loren Coleman no longer writes for Cryptomundo. His archived posts remain here at Cryptomundo.