Posted by: Loren Coleman on November 10th, 2008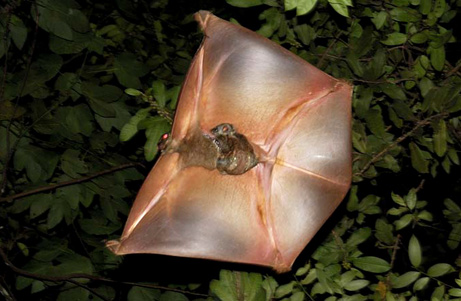 A Sunda colugo, a type of flying lemur (above), carries its baby as it soars through a Singapore rain forest in an undated photo.
The discovery of at least three new species of colugo flies in the face of knowledge about the tree-dwelling creatures, scientists said today.
Flying lemurs are considered the closest living relatives to primates.
The two previously known species are the Sunda and Philippine colugo.
But new DNA analysis of the Sunda colugo, found in Indochina and Indonesia, has revealed that what was thought to be a single species is actually at least three.
"We didn't realize how extensive the speciation events were," said lead author Jan Janecka of Texas A&M University.
Colugos have specialized physical features, such as a skin membrane attached to their limbs, that allow them to live in their unusual treetop habitats.
When species branched off over time, they retained the same appearance, Janecka said—leading scientists to believe the Sunda colugos belonged to one species.
The finding also has a "big conservation impact," Janecka added.
Now, if a regional population dies out due to deforestation or other human activities, he said, an entire species could be lost.
Photograph by Norman Lim
Loren Coleman – has written 5489 posts on this site.
Loren Coleman no longer writes for Cryptomundo. His archived posts remain here at Cryptomundo.