Posted by: Loren Coleman on July 25th, 2009


The new species, Cnemasspis kolhapurensis is endemic to parts of India's Western Ghats.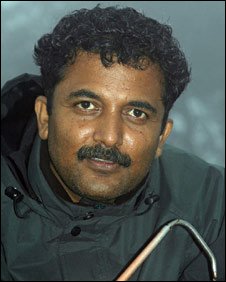 One of the people assisting taxonomist Varad Giri (pictured above) in confirming this find was Aaron M. Bauer, discoverer of the giant gecko and a former board member of the now-defunct International Society of Cryptozoology (shown below).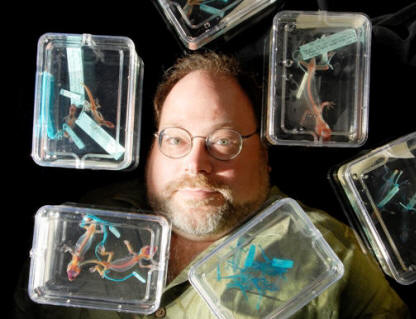 Aaron M. Bauer, Ph.D. is a professor of biology and director of the graduate programs in biology at Villanova University.
Here are the highlights from the BBC News:
Scientists have discovered a new species of lizard in the lush Western Ghats mountain range in the Indian state of Maharashtra.
The small reptile is a form of gecko and was found by taxonomist Varad Giri in the Kolhapur district. It has been named Cnemasspis kolhapurensis.
Mr Giri and his co-workers published their findings in this month's edition of the Zootaxa journal.
It is the third new species of lizard recently discovered in the area.
Mr Giri, a curator at the Bombay Natural History Society, told the BBC that the Western Ghats has never been surveyed for amphibians and reptiles.
"A gecko of this particular character has not been recognised elsewhere in the world," he said.
…
Iridescence is commonly reported in a variety of reptiles – but not geckos.
Once Mr Giri and his co-workers had analysed the specimen, they realised it was a previously unknown species.
They then enlisted the help of Dr Aaron M. Bauer*, an expert on lizards based at Villanova University in the US, to confirm the discovery.
Cnemasspis kolhapurensis are mostly small in size and have a circular, rather than elliptical, pupil. They are generally found in forests although some have also been found in areas inhabited by humans.
…
The Western Ghats mountain range is said to be one of the world's "biodiversity hotspots".
But analysts say that the area is at risk of a biodiversity crisis, because it has long been under threat from logging and human encroachment.
…
Other new species of lizard previously discovered in the area were Hemidactlyus sataraensis and Hemidactylus aaronbaueri.
Loren Coleman – has written 5489 posts on this site.
Loren Coleman no longer writes for Cryptomundo. His archived posts remain here at Cryptomundo.