Posted by: Loren Coleman on May 17th, 2008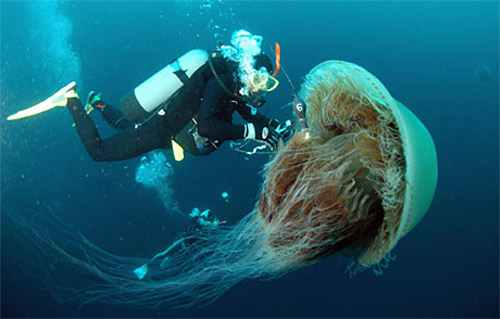 An encounter between a large jellyfish and a human diver off the coast of New Zealand makes for an interesting souvenir. But one woman with a gift for discoveries only had to go as far as her neighborhood aquarium to find a new species of jellyfish.
Marine scientists in north Queensland have discovered a new species of jellyfish, right under their noses.
It looks like snot, it's the size of a grain of rice, and it's taking the marine science world by storm.
Dr. Lisa Gershwin says the tiny creature, which has yet to be named, was found in a seahorse tank at the Townsville Aquarium.
The jellyfish, of the family Coeloplana, has its mouth on its underside and its anus wrapped around its brain.
"It's up to about a centimetre long, it doesn't swim, it glides along the bottom," she said.
"It's found on algae and seagrass and it's just a real thin film, real mucusy like a flatworm but it's got these two tentacles sticking out and it's actually genetically a jellyfish that looks like a flatworm."
Dr. Gershwin told the National Nine News/AAP the species was an evolutionary "dead end".
"It's lost the ability to sting, it's lost the ability to swim, it's not a very good jellyfish, as far as jellyfish go."
Dr. Gershwin said it was the 159th species she had found, and would be named after Dr. Russell Reichelt, chief executive of the Great Barrier Reef Marine Park Authority.
"This particular one, I think is really, really special," she said.
"The typical non-science person thinks of science as happening in sterile labs far away, in a university or a hospital by people in white lab coats and latex gloves.
"This really brings it home that science is all around us and happens in our own backyards."
The jellyfish will be studied further before it is described and submitted to a peer reviewed journal.
Thus far, no photograph appears to be available.
Loren Coleman – has written 5489 posts on this site.
Loren Coleman no longer writes for Cryptomundo. His archived posts remain here at Cryptomundo.