Posted by: Loren Coleman on February 21st, 2008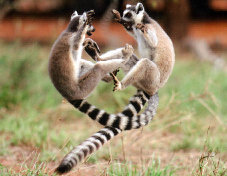 Lemurs who star in "Lemur Street" on the Animal Planet series.
Cryptomundo has documented the recent discoveries of three new lemurs by the staff of the little zoo out in Omaha. Today, it was announced they have been involved in the findings of two more.
Congratulations to them!
Here are the details:
Scientists at Henry Doorly Zoo's Center for Conservation and Research have identified two new species of lemurs in Madagascar.
One of the animals is named in honor of the Suzanne and Walter Scott Jr. Foundation. The foundation, established by the Omaha couple, has supported the zoo's conservation efforts.
The Scott's sportive lemur is an agile animal with grayish brown fur and a black-tipped tail. Its scientific name is Lepilemur scottorum.
The second lemur is the Moore's woolly lemur, Avahi mooreorum. It has brown-gray fur and a reddish tail. Its name honors the Gordon and Betty Moore Foundation of San Francisco. The foundation has supported conservation and biodiversity in endangered areas.
Lemurs are primates, and finding a new species of primate is rare. But the Omaha zoo has identified 18 new lemur species in Madagascar in the last three years.
The discoveries demonstrate the need to learn more about the flora and fauna of that country, says Edward Louis, director of the zoo's Madagascar Biodiversity & Biogeography Project.
Louis has conducted research in Madagascar for more than 10 years. He had assistance on the recent discoveries from Runhua Lei, a member of the project team.
Source: "Henry Doorly Zoo scientists identify two new lemur species," by Jan Palmer, World Herald, Omaha, Thursday, February 21, 2008.
[No photographs of the new lemurs are available yet. Check back later to see if I've added any new releases. ~ Loren]
Loren Coleman – has written 5489 posts on this site.
Loren Coleman no longer writes for Cryptomundo. His archived posts remain here at Cryptomundo.