Posted by: Loren Coleman on December 11th, 2006
The media attention is high today for the Sloan Foundation's year six census of marine life, so I'll keep this short. You can read one of the stories here, from CNN, and another here in The Hindu. At last count, I found over 200 versions of this story appearing in newspapers and online sites around the world.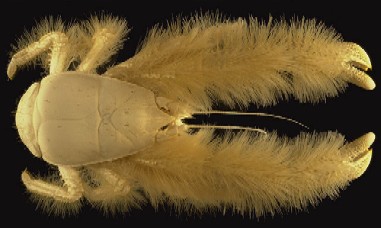 Courtesy © Ifremer / A. Fifis Press Release; click on image for larger view.
The Yeti crab photo is getting recycled. (Click on the hyperlink for more about it.)
Here's a summary of the findings from the 2006 research:
Shrimp, clams and mussels living near the super-hot thermal vent in the Atlantic, where they face pulses of water that is near-boiling despite shooting into the frigid sea.
In the sea surrounding the Antarctic, a community of marine life shrouded in darkness beneath more than 1,600 feet of ice. Sampling of this remote ocean yielded more new species than familiar ones.
Off the coast of New Jersey, 20 million fish swarming in a school the size of Manhattan.
Finding alive and well, in the Coral Sea, the type of shrimp called Neoglyphea neocaledonica, thought to have disappeared millions of years ago. Researchers nicknamed it the Jurassic shrimp.
Satellite tracking of tagged sooty shearwaters, small birds, that mapped the birds' 43,500-mile search for food in a giant figure eight over the Pacific Ocean, from New Zealand via Polynesia to foraging grounds in Japan, Alaska and California and then back. The birds averaged a surprising 217 miles daily. In some cases, a breeding pair made the entire journey together.
A new find: a 4-pound rock lobster discovered off Madagascar.
A single-cell creature big enough to see, in the Nazare Canyon off Portugal. The fragile new species was found 14,000 feet deep. It is enclosed within a plate-like shell, four-tenths of an inch in diameter, composed of mineral grains.
A new type of crab with a furry appearance, near Easter Island. It was so unusual it warranted a whole new family designation, Kiwaidae, named for Kiwa, the Polynesian goddess of shellfish. Its furry appearance justified its species name, hirsuta, meaning hairy.
Loren Coleman – has written 5489 posts on this site.
Loren Coleman no longer writes for Cryptomundo. His archived posts remain here at Cryptomundo.