Posted by: Loren Coleman on January 19th, 2008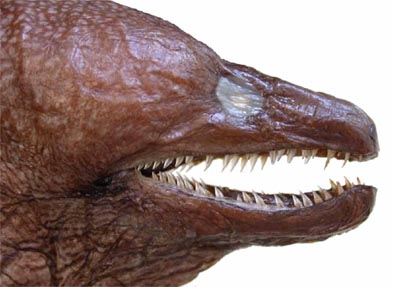 According to Zootaxa (Smith et al., 2008), a new species of moray eel, Gymnothorax baranesi has been discovered in the most surprising of locations: in relatively shallow water in front of a major marine laboratory.
This finding of the new species took place in a well-studied area in front of the Interuniversity Institute for Marine Sciences of Eilat (IUI). These specimens were collected from a depth of approximately 200 metres off Eilat, in the northern Red Sea. They could not be identified with any known species. It indicates to those who found it how much we still have to learn about the marine habitat.
This species was discovered by Shai Einbinder during a fish course that was taking place at IUI. It was described by Shai and Eran Brokovich of the IUI, with the help of the fish taxonomist David Smith from the Smithsonian in Washington DC.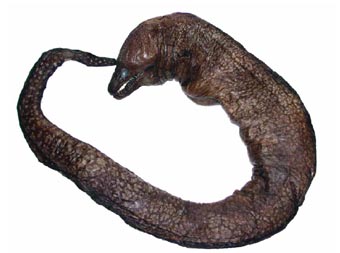 They named the eel Gymnothorax baranesi in tribute to Dr. Avi Baranes, a rare individual who has dedicated his career to research of the deep bottom of the Gulf of Aqaba, and described, together with Dr. Dani Golani (Hebrew University of Jerusalem) many new species of fish.
Source: Smith, D. G., E. Brokovich & S. Einbinder. 2008. Gymnothorax baranesi, a new moray eel (Anguilliformes: Muraenidae) from the Red Sea. Zootaxa 1678: 63-68.
Loren Coleman – has written 5489 posts on this site.
Loren Coleman no longer writes for Cryptomundo. His archived posts remain here at Cryptomundo.