Posted by: Loren Coleman on September 19th, 2006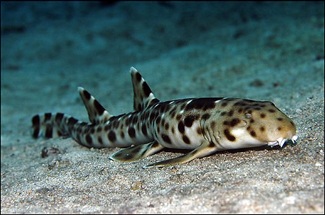 There's good discovery news out of Indonesia, in various widely reported dispatches, such as by our buddy David Pescovitz over at Boing Boing, in his notes, "Dozens of new undersea species discovered off Indonesia ."
Pescovitz writes:
Researchers from Conservation International discovered dozens of new species in the water off Indonesia's Papua province. This epaulette shark (Hemiscyillum freycineti) walks around the bottom of the sea on its fins. From the Associated Press:
The team from U.S.-based Conservation International also warned that the area–known as Bird's Head Seascape–is under danger from fishermen who use dynamite and cyanide to net their catches and called on Indonesia's government to do more to protect it…

"Above and below water, it's simply mind blowing," (said Mark Erdmann of Conservation International.)

Erdmann and his team claim to have discovered 52 new species, including 24 new species of fish, 20 new species of coral and eight new species of shrimp. Among the highlights were an epaulette shark that walks on its fins, a praying mantis-like shrimp and scores of reef-building corals, he said.
====End of Pescovitz's quotes=====
Pescovitz also has an interesting link to a Fark piece of humor related to this new shark, but you'll have to go to Boing Boing to read that one.
Not mentioned in any of the reports I've read, Mark and Arnaz Mehta Erdmann were the discoverers of the Indonesian coelacanth in 1998. Congratulations to another successful Erdmann team and their new findings.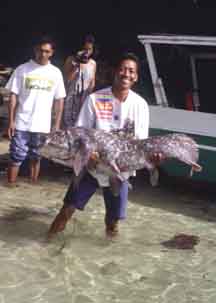 Above photograph: The first Indonesian coelacanth captured by locals, on the team lead by scientists Mark and Arnaz Mehta Erdmann, who described the discovery in the September 24, 1998 issue of Nature.
Loren Coleman – has written 5489 posts on this site.
Loren Coleman no longer writes for Cryptomundo. His archived posts remain here at Cryptomundo.