Posted by: Loren Coleman on January 9th, 2010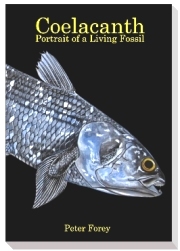 Late word has reached me that there has been published a new book of interest to cryptozoology, Coelacanth – Portrait of a Living Fossil by Peter Forey.
Here is an overview of the book by the author:
The purpose of this book is to give an account of the life and times of a single species of fish,
Latimeria chalumnae – the coelacanth (or are there now two species?).
The scientific reputation of the coelacanth – why it is important:
Living fossil: an example of a group thought to have died out 70 million years ago. Coelacanths are all structurally very similar – raises the question – why?
Structural conservatism, means that it may be possible to reconstruct the lifestyles of the earliest coelacanth and its contemporaneous relatives.
Before the discovery of the modern Latimeria, relationships of the coelacanths were thought to lie with the rhipidistians, a group of fossil fishes that many think are tetrapod ancestors.
Hence, by looking at the modern coelacanth and assuming conservatism we may be able to reconstruct the life of the 'missing link' between fishes and tetrapods.
The coelacanth is the only living animal to retain some structural characteristics that were certainly present in the tetrapod ancestors, such as the intracranial joint. Therefore it is of some interest to try and find out how this joint works and what it is there for.
The gene pool of the coelacanth has been separated from that of all other living vertebrates for at least 360 million years. Therefore, it is of some interest to find out how much deviation from contemporaneous fishes there has been.
Coelacanths have often been used as the classic example of a particular evolutionary pattern whereby evolution is very fast in the early years and then slows down to stability and finally stagnation. This needs to be evaluated in the light of what we now know of the history of the coelacanths as a genetic lineage.
Contents
Preface
Chapter 1 Introduction
Chapter 2 Discovery
Chapter 3 Coelacanth Natural History
Chapter 4 Coelacanth Homes
Chapter 5 Coelacanths Through Time
Chapter 6 Reputation 70 Years On
Chapter 7 Epilogue
Chapter 8 Coelacanth People
Size: 170×240 – 218 pp – Paperback
Due out 30 December 2009
Paperback: 205 pages
Publisher: Forrest Text (December 28, 2009)
ISBN-10: 0955074096
ISBN-13: 978-0955074097
Thanks for the tip from Rik Nulens of Belgium
Loren Coleman – has written 5489 posts on this site.
Loren Coleman no longer writes for Cryptomundo. His archived posts remain here at Cryptomundo.