Posted by: Loren Coleman on November 18th, 2009
Normandy is not just a location famed for its role in the D-Day invasion of Europe in World War II. Normandy is also the name of a site in Florida where a strange cryptid is being seen. Now the name will be associated with a new cryptid report. Photographic evidence of the creature has been obtained.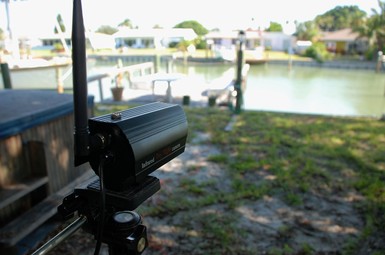 Russ Sittlow set up a surveillance camera to video tape the creature swimming in the channel behind his home. Staff photo by Michael Egger.
Some kind of serpentine cryptid is being seen in…
…the canals of Madeira Beach along the Pinellas County coast. Those who have seen it say it's no fish and think it could be a sea serpent.

Russ Sittlow, 78, has seen it. He calls the creature "Normandy Nessie" because he lives on Normandy Road.

The retired engineer said he first saw "Nessie" in April.

"His head come up out of the water, and then he rolled up in a double roll behind him and he was long he was huge," he said of that first sighting.

Sittlow said he has seen two of the creatures in the canal, one very large, and the other a bit smaller. He estimates the largest one is at least 30 feet long.

Sittlow set up a surveillance camera to record video if the creatures came back. He said his camera recorded "Nessie" three times since September, the latest Saturday [November 14, 2009].
Thanks for incoming news of this story from Craig Woolheater, Zach Klyver, Justin Decker, Judy Renouf, and others. By this morning, it appears to be getting growing coverage across several news organizations.
Loren Coleman – has written 5489 posts on this site.
Loren Coleman no longer writes for Cryptomundo. His archived posts remain here at Cryptomundo.