Posted by: Loren Coleman on June 1st, 2009
People are seeing large cats this spring in the Northeast, and getting serious about finding proof.
One resident had had as a lab partner in college the renowned tracking guru Tom Brown, Jr., who had started an organization called Tracker SFI (for "search and forensic investigation").
Tracker SFI applies the ancient Apache art of tracking to police investigations.
SFI deployed a Brown acolyte named Shane Hobel….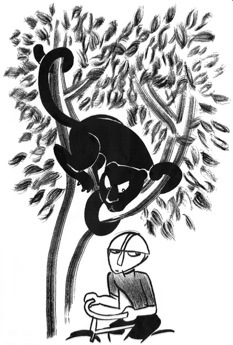 The construction site where Hobel first saw the cat tracks was just south of the lot. A crew was there grading gravel. "You guys looking for the phantom panthers?" one of the men said.
What is a panther? What is a phantom panther?
The magazine The New Yorker, June 8, 2009, has published, in their famed section, "Talk of the Town," a level-headed and insightful column on cryptic large cats being reported in the Palisades of New Jersey. It is authored by Nick Paumgarten. The piece is entitled "Suburban Legends: Panther(S)!"
Hobel replied that the panthers were not phantoms. The man said, "People actually saw them? Did they have a couple of cocktails in 'em?" Hobel laughed politely and then dropped into a thicket off the road.
Loren Coleman – has written 5489 posts on this site.
Loren Coleman no longer writes for Cryptomundo. His archived posts remain here at Cryptomundo.