Posted by: Loren Coleman on October 11th, 2012
David Letterman, the other night, mentioned there have been a lot of alligators turning up in New York. Found this article about these accounts.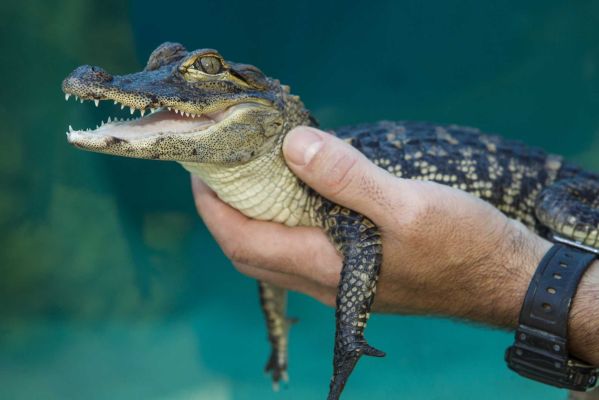 Joseph Yaiullo, curator and co-founder of L.I. Aquarium and Exhibition Center in Riverhead, holds a two-year-old American alligator, discovered at the Great Rock Golf Course in Wading River. This is the fourth gator found roaming Long Island in five days. Photo credit: Randee Daddona (Newsday, Oct. 5, 2012)
Mineola, N.Y. — There's a gator glut on Long Island. Newsday says the fourth alligator discovered in a
week has found a new home at a Riverhead aquarium.
The most recently publicized stray was found Monday at a Wading River golf course on eastern Long Island.
Other alligators were found on successive days about 55 miles west, near a Baldwin supermarket.
The spate of gators started a week ago in Mastic.
Experts believe people may be disposing of the 2½-foot-long beasts when they start to become unmanageable.
The week's gator-wrangling total comes to five if you include New York City. Police removed a pet alligator from a Brooklyn home on Monday.
The Suffolk County SPCA warns that exotic animals make bad companions.
They may pose serious health risks. "4th Alligator Discovered Roaming Long Island," Wall Street Journal, October 5, 2012
Loren Coleman – has written 5489 posts on this site.
Loren Coleman no longer writes for Cryptomundo. His archived posts remain here at Cryptomundo.