Posted by: Loren Coleman on May 16th, 2011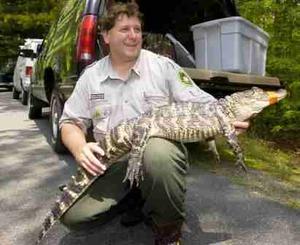 Crocs in the north are a lot easier to capture than most people assume. The morning cold in the spring slows them down.
I guess things are getting back to normal. Ohio recorded the find of a "stray alligator" and police officers killed it.
Of course, this brings up a couple questions: How do they know it was an American alligator (Alligator mississippiensis) and not an escaped spectacled caiman (Caiman crocodilus)? And why did they shoot it, instead of attempting a live capture and giving it to the Columbus Zoo?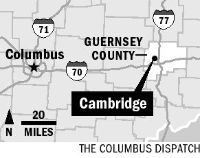 Here are the initial details from the Columbus Dispatch:
Guernsey County wildlife officer Roby Williams has received a lot of strange calls on the job with the state's Division of Wildlife.

But the one he got this week about an animal lurking on the outskirts of Cambridge was a new one even for him.

"A local resident contacted me and said they had observed an alligator sunning itself on a log in Crooked Creek," Williams said.

When he arrived at the creek, Williams found a 31/2-foot American alligator perched blissfully on a fallen tree, soaking up the afternoon sun. He said the alligator likely was a Cambridge resident's pet that had grown too big to handle and was let go, a fate that befalls a number of exotic animals in Ohio each year.

As in most such cases, the alligator's story doesn't have a happy ending. Williams, who said that officers for the state's Department of Natural Resources have no regulatory authority over animals not native to Ohio, called the Guernsey County sheriff's office, which sent Lt. Dale Lyons to investigate.

Lyons, at the direction of Sheriff Michael McCauley, killed the animal with a rifle shot before it could slip into the water and escape.
Rest of the article is here.
Loren Coleman – has written 5489 posts on this site.
Loren Coleman no longer writes for Cryptomundo. His archived posts remain here at Cryptomundo.