Posted by: Loren Coleman on June 4th, 2012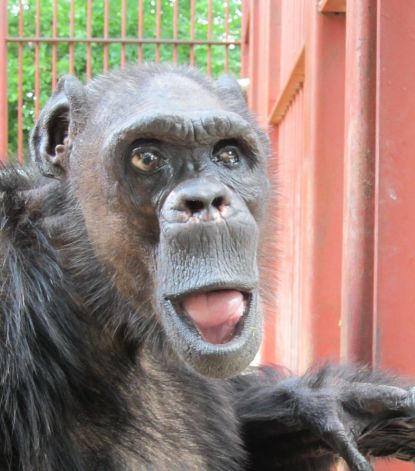 Oliver, the chimpanzee who spent much of his life as part of circus shows or in research labs, was found dead Saturday, June 2, 2012, in his bedroom at Primarily Primates, the sanctuary where he spent his last 14 years.

He was at least 55 years old, while the average lifespan for a male chimp in captivity is 35.

Oliver's girlfriend, Raisin, was by his side when caretakers found him, said Stephen Rene Tello, executive director of the sanctuary.

He came to Primarily Primates from a research lab in Pennsylvania in 1998. Tello said the lab didn't perform any studies on him during his decade there because the staff could tell he was special: "He was just on a different level; he had very humanlike traits."More at the source.
Oliver was not a Sasquatch, but you might not have known that in the 1970s. Articles about Oliver being a Bigfoot were written in all seriousness.
But Oliver was a chimpanzee (Pan troglodytes).
Unfortunately, despite his history being easily obtainable, I would often get inquiries about Oliver really being a Bigfoot.
Loren Coleman – has written 5489 posts on this site.
Loren Coleman no longer writes for Cryptomundo. His archived posts remain here at Cryptomundo.