Posted by: Loren Coleman on January 10th, 2011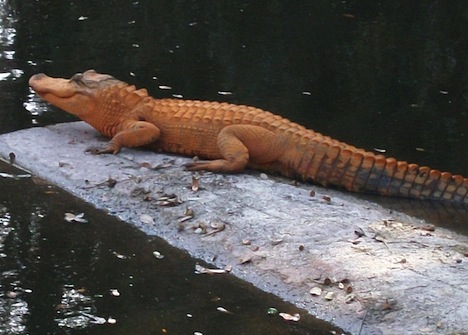 Photo by Sylvia Mythen.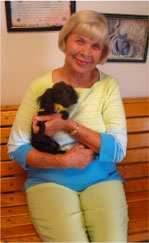 Sylvia Mythen, a 74-year-old woman from Venice, Florida, snapped the above photo of this orange alligator sunning itself by a pond near her home, a few days ago. (The image hit the media at the end of last week, as I was traveling to the State of Florida, so I wasn't able to post this until now.)
Florida Wildlife Commission experts have analyzed the photo and determined that the reptile's coloring is not genetic. Officials suspect the animal might be the victim of a prank but won't know for sure until they can examine it.
But Geoff Isles, district manager for an wildlife control company in Sarasota, Florida, is stymied.
"I would have no idea how to dye an alligator — especially a normal skin-toned alligator in his natural state," he told AOL News. "Their skin is just so extremely thick that I don't know how, short of tattooing, you would get it that color."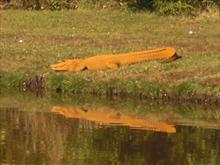 Photo by Linda Bernard.
Sylvia Mythen wasn't the only one who saw it. "He was just sun basking right here on this cement pier minding his own business," says Phillip Crosby.
Most people would be afraid; but not Sylvia. "I thought this is great…I'm going to snap a picture and send it to my grandkids so they think I'm one of the coolest grandmas in Florida."
In the picture she took, seen first on My Suncoast and ABC 7, you can clearly see that the reptile is orange.
Some neighbors say they were a little skeptical, thinking it was dirt or mud. But at closer glance…"I see him as I was passing by in my car, and he was definitely orange…his whole body was orange," says Crosby.
"I was from him to you away from him, and he was orange. So if it was mud, he did a good job of covering himself…every nook and cranny," says Mythen.
She not only contacted ABC 7, but she also contacted a biologist. "His findings were that it's probably almost an albino…in between. It's an albino, only a little more color, so he wasn't a full-fledged albino."
For now, residents say the orange gator is more than welcome to call Sorrento Woods home.
Mythen says the biologist told her that the orange gator is extremely rare. So rare in fact that he's never even seen one.
Gary Morse from Florida Fish and Wildlife says, "The official opinion from our alligator experts is that this is alligator is not naturally orange. We believe it's orange from paint, stain, iron oxide or some other element in the environment that has left a coating on the animal, making it appear orange."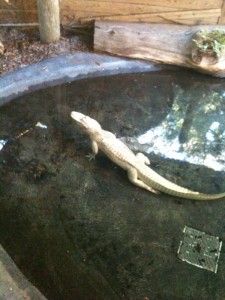 Photo by Loren Coleman of an albino American Alligator, taken January 8, 2011, at St. Augustine's Alligator Farm.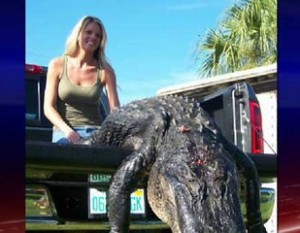 Normal coloring for an American alligator (above) is much different than the orange morph noted recently.

Loren Coleman – has written 5489 posts on this site.
Loren Coleman no longer writes for Cryptomundo. His archived posts remain here at Cryptomundo.