Posted by: Loren Coleman on September 21st, 2008
Otterly Wonderful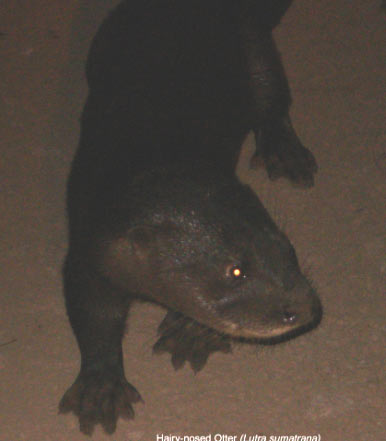 A photograph of the hairy-nosed otter in the U Minh Ha National Park, taken by research staff of the Program for Carnivorous Animal and Pangolin Preservation.
Two hairy-nosed otters (Lutra sumatrana), the rarest of the 13 otter species in the world, have recently been discovered at the U Minh Ha National Park in the southern province of Ca Mau, Vietnam.
This is the first time an appearance of this species has been confirmed in Vietnam since 2000.
Last March 2008, while making a survey of wild animals at night, experts of the Program for Carnivorous Animal and Pangolin Preservation discovered two hairy-nosed otters.
"We saw the otters at a distance of over 2m [6 feet] only. This is a rare chance to see such a rare species in nature," said Nguyen Van Nhuan from the group.

The hairy-nosed otter is one of the rarest otter species on earth, and was thought to be extinct in 1998 as there had been no sightings for many years, but a tiny number of populations have been rediscovered in Cambodia, Thailand, and Sumatra. As noted, in Vietnam, the latest record of the hairy-nosed otter was in 2000 at U Minh Thuong National Park.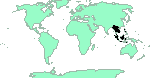 Above, the accepted range of Lutra sumatrana.
There is little information about this species so it is listed as an "insufficiently known animal" in the IUCN Red List of Threatened Species. However, the IUCN's Otter Specialist Group named the hairy-nosed otter among species of international preservation significance. The Vietnam Red Book 2007 also listed this species as an endangered species.
It is difficult to see hairy-nosed otters in nature because they are nocturnal. They eat fish, amphibians, reptiles and insects.
Nguyen Van The, Director of U Minh Ha National Park, said: "It is a wonderful news that the hairy-nosed otter has been discovered in our park and we are willing to cooperate with the Programme for Carnivorous Animals and Pangolin Preservation to pursue this important research work."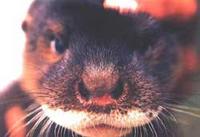 Vietnam is the home to four species of otter: the hairy-nosed otter (Lutra sumatrana) – above -, the smooth-coated otter (Lutra perspicillata), the Eurasian otter (Lutra lutra), and the Asian small-clawed otter (Aonyx cinerea). All four species are seriously endangered.
Researchers plan to continue their field-trip survey in U Minh forest, especially the area lying between U Minh Ha and U Minh Thuong national parks because this is a corridor animals use to move between the two parks.
(Sources: VietNamNet Bridge and The Anomalist)
Loren Coleman – has written 5489 posts on this site.
Loren Coleman no longer writes for Cryptomundo. His archived posts remain here at Cryptomundo.