Posted by: Loren Coleman on August 4th, 2010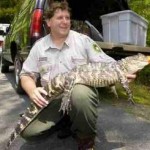 It is getting to be that time of year again. Above is an earlier find in Massachusetts. Now comes word of another reptilian surprise.
A crazy crocodilian has been found in the Patapsco River, just south of Baltimore, Maryland.
Natural Resources Police spokesman Sgt. Art Windemuth says the 2.5-foot to 3-foot caiman was found Tuesday afternoon, August 3, 2010, near Glen Burnie, Maryland.
Windemuth says an adolescent who spotted the crocodilian (which is native to Central and South America) earlier this week at his favorite fishing area along the river returned and spotted it again.
Next, what happened, is not recommended that anyone try this at home. The eyewitness brought in the proof that he wasn't just seeing things. The teen went home and returned with a piece of chicken tied to a string, in an effort to catch it. He caught the caiman and kept it on site until authorities arrived.
Windemuth says Anne Arundel County Animal Control is contacting area zoos in hopes of finding a habitat for it.
He says possessing a caiman or alligator is against state law and releasing any non-indigenous animal is also prohibited.
Thanks to Invisible Ink in Ohio.
Loren Coleman – has written 5489 posts on this site.
Loren Coleman no longer writes for Cryptomundo. His archived posts remain here at Cryptomundo.