Posted by: Loren Coleman on April 27th, 2008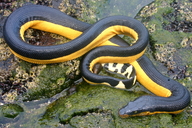 The Yellowbelly Sea Snake or Pelagic Sea Snake (Pelamis platurus) is a species of sea snake found in tropical oceanic waters around the world.
It occurs on both sides of the Pacific and is the only sea snake to have reached the Hawaiian Islands. It is so widespread that even one dead specimen has been found in Russia, on the coast of the Sea of Japan, near Vladivostok city.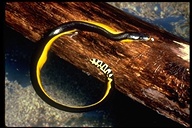 One of the world's most poisonous snakes has now caused a stir in New Zealand, making its way to the snake-free country.
When the 90-centimetre yellow-bellied sea snake washed up at Dargaville, north of Auckland, locals rushed to the beach.
Police had to cordon off the area and stand guard.
Experts believe the snake caught a ride in currents, possibly from Tonga.
It is now recovering at an Auckland marine centre where Andrew Christie is the curator.
"We get three or four sightings a year, but usually when they come to shore they are dead or at death's door," he said.
Few sea snakes survive in New Zealand's cold waters.
The yellow-bellied sea snake is part of the cobra family.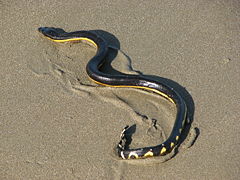 Sources: Background research and "Snake-free NZ gets yellow-bellied surprise" by Kerri Ritchie, Australian Broadcasting Corporation, 24/4/08.
Loren Coleman – has written 5489 posts on this site.
Loren Coleman no longer writes for Cryptomundo. His archived posts remain here at Cryptomundo.