Posted by: Loren Coleman on January 8th, 2009
Rarely do I see a weekly newspaper create a cryptozoological magnum opus. But it may have happened.
The Boston Phoenix has published a long, indeed, a very long essay that fairly and, in great detail, profiles cryptozoology and me. Their extraordinarily lengthy Lifestyle Features article on cryptids, the International Cryptozoology Museum and more can be found in their January 7, 2009 edition, which went live online late Wednesday, and will be at New England newstands all this week.
Reporter Mike Miliard's "Where the wild things are" begins by noting, "As our planet edges closer to the apocalypse, the escapist, fantasy world of cryptids is suddenly coming to life."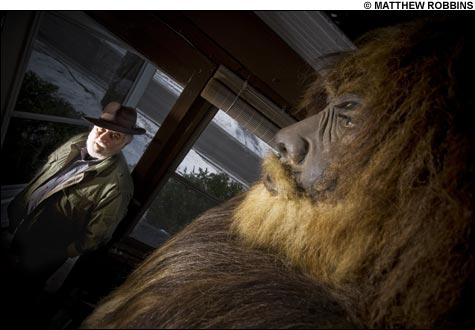 "Cryptids are recession-proof," says Loren Coleman (no relation to Norm), who lives in Portland, Maine, and is perhaps the world's foremost promulgator of cryptozoological wisdom.- Mike Miliard, Boston Phoenix.
Hardly ever does an article on our field not drift away from the topic at hand. But as you will see, Miliard's is an excellent example of an on-target treatment, done sincerely and seriously. It is well-written, and filled with quotes from some of my favorite New England friends ~ John Hodgman, Jeff Belanger, and Chris Balzano.
"For every square mile that man has walked on the Earth, three hundred square miles exist that have never been touched by human feet — but may indeed have been touched by the hooves, paws, tentacles, and horrid tongue-foot-pads of the cryptids." — John Hodgman
See the four-part piece here.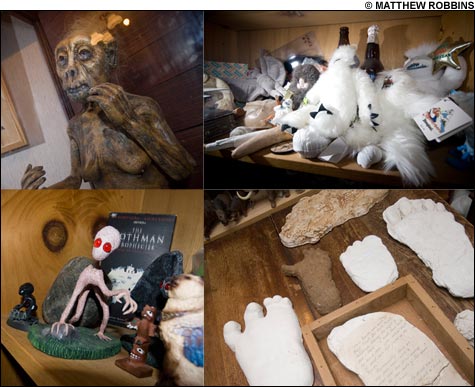 (In celebration of a world of few errors, the article contents only one nit-picking stumble: The Bigfoot on the porch is covered with tanned legal musk oxen hides, not yak fur.)
For the "Slideshow: Cryptids In Maine," of the great photographs by Matthew Robbins, click here.
****
Donations to the Save The Museum fund can be delivered via PayPal to LColeman@maine.rr.com or snail mailed to International Cryptozoology Museum, PO Box 360, Portland, ME 04112, USA.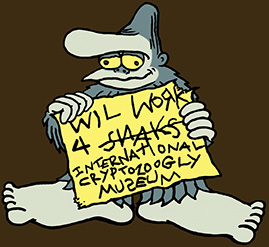 Lil' Bigfoot Cartoon Credit: Cunningham/Pittz
Loren Coleman – has written 5489 posts on this site.
Loren Coleman no longer writes for Cryptomundo. His archived posts remain here at Cryptomundo.