Posted by: Loren Coleman on March 31st, 2007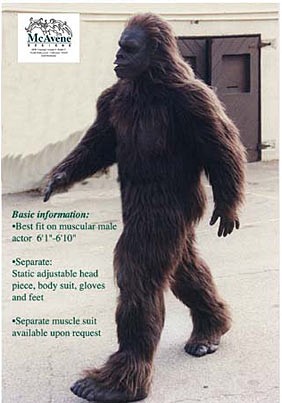 Do you have an old Yeti costume knocking around your place, which you would loan out for free? Or even a Bigfoot suit that an actor might use for six weeks? An off, off, off Broadway play in New York City wants to talk to you.
The Phoenix Theatre Ensemble is mounting a production of On The Verge. In the play, a Yeti appears. It's a brief but strikingly memorable scene.
However, they are a shoestring production and they quickly discovered that such a costume is very expensive to make or rent from a typical costume outlet. So they are putting out the call for one to be loaned to them for free (for thanks and several tickets to the production) for about six weeks total.
It needn't be a pristine costume piece; in fact, a little worse for the wear might be okay, I was told. Actually, I was given the details of their need by the guy who is going to wear the suit, Mike Surabian. Beside Yeti, Surabian is going to play eight other parts.
Ideally we would like to trade a program ad or a very special thanks in the program rather than paying a lot for it. We have a limited budget. Is there anyone you know that might be able to help us out?

Please visit our Phoenix Theatre Ensemble website. We are the real deal – just not with real deal $$$.

As to the color, the women characters mention an Abominable Snowman or Yeti – if they are authentically brown/black and the whiteness is snow, we may still need to get a whiteish/grayish one, as the scene takes place in the Himalayas.

The director is open to an authentic-colored Yeti costume. So a red-brown or black is okay – though if we stumbled upon a whiter one, that would be okay too.

The biggest issue is cost, so wherever you are able to look, that would be the primary consideration. As they say, beggars can't be choosers.

Loren, I appreciate more than I can express your assistance in this.Mike Surabian, Phoenix Theatre Ensemble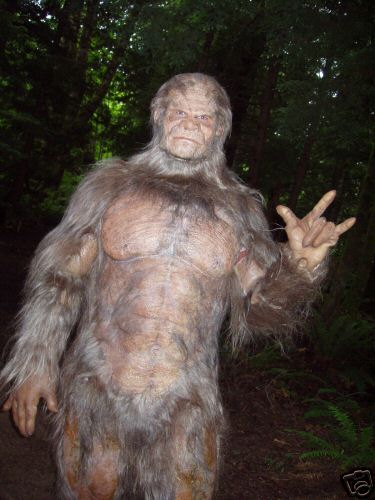 If you have a costume, contact me, and I'll put you in touch with Mike.
Loren Coleman – has written 5489 posts on this site.
Loren Coleman no longer writes for Cryptomundo. His archived posts remain here at Cryptomundo.