Posted by: Loren Coleman on July 5th, 2009
Photographs taken of large footprints in April 2009, on the Pine Ridge, South Dakota's Lakota reservation allegedly belong to Bigfoot. The footprints were found on land belonging to Charles Waters.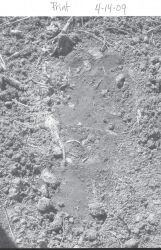 Photo taken by Harriet Twiss.
According to Gloria Yellow Boy, there was a disturbance outside of her home after dark on April 14. "The dog barked and barked that night," she said. "Bigfoot" screams sound real strange. The sound "gives you chills," she said.
She lives near Wolf Creek Community building east of Pine Ridge. "I don't know what it looks like because I have never seen it, but I think it may have killed our dogs in the past. Once we had a dog named Angus and we found him with his head twisted around. Whatever killed him tore his throat out. There were also wounds on his stomach."
"We live on a flat area of the prairie. I hear the Bigfoot like to hang around trees, maybe they have a trail that runs near our place," she said. "One time the Bigfoot was right outside the house, my daughter looked out the window and saw it standing next to the van. She said it had red eyes."
Due to the quiet, closed nature of the community, a contact from there just forwarded me this info.
Loren Coleman – has written 5489 posts on this site.
Loren Coleman no longer writes for Cryptomundo. His archived posts remain here at Cryptomundo.