Posted by: Loren Coleman on July 31st, 2006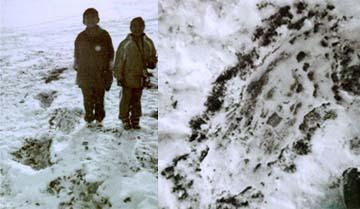 At left, Bruce Schildt's kids stand near a line of tracks their father believes might belong to Bigfoot. The tracks were discovered Jan. 1, 2006, when the elder Schildt notified Blackfeet Fish and Wildlife and had them investigate. The best track is the one above. Schildt reports the tracks are about 18 inches long and 10 inches wide, and the stride is around 39 inches. There were 30 or 40 tracks, said Schildt, including one very clear print. This all happened at Kiowa Camp, on the reservation of the Blackfeet First Nation, Montana, just east of the Glacier National Park, south of the Alberta border. Meanwhile, hundreds of miles away, in South Dakota, there is new Bigfoot activity among the Pine Ridge Lakota.
Here's an update from Pine Ridge Reservation, South Dakota, regarding the Bigfoot happenings occurring there right now, following the earlier Pine Ridge sightings from July 28, 2006. These new ones, below, are incidents that have occurred on July 29-31, 2006. This is nearly realtime data transmission, from the sources, there.
Here's what is being conveyed….
The officers on duty no longer are referring in their reports to an "individual." They are straightforwardly saying "Bigfoot."
When officers attempt to get close to the Bigfoot, it escapes into the creek and the pine-covered hills.
One new report mentions that the Bigfoot's eyes are glowing red from the police unit's headlights.
Police scanners are picking up that another officer said to other officers: "You guys should see him. Man, he's big."
This is a series of sightings brought to you, via this blog, versus it being screened through the news media 24 to 48 hours later. More info will be passed along as we hear about this one….
+++
Please note the comment below that a forest fire is occurring near the Pine Ridge Reservation right now…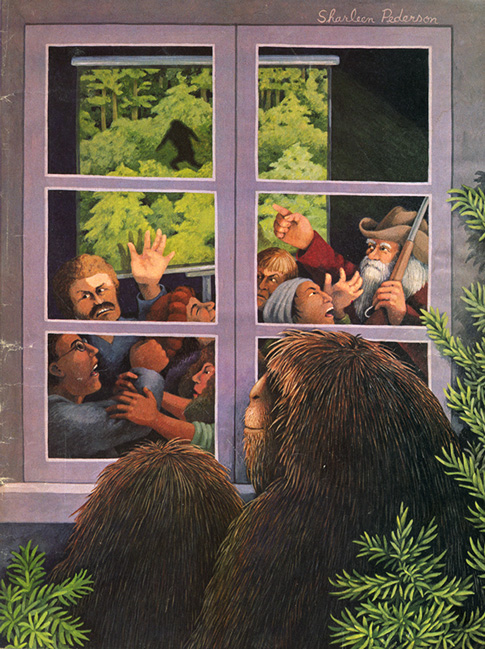 Loren Coleman – has written 5489 posts on this site.
Loren Coleman no longer writes for Cryptomundo. His archived posts remain here at Cryptomundo.