Posted by: Loren Coleman on August 6th, 2006
Recent sightings of Bigfoot have again occurred at the Oglala Sioux Pine Ridge Reservation in South Dakota. The weekend has been busy for police, due to the Oglala Nation Pow-Wow, which ends today, Sunday, August 6, 2006. Bigfoot activity has been relatively calmer than last weekend, but, nevertheless, now comes word of a report this morning.
Past recent accounts – first documented at Cryptomundo – have involved police sightings, another series of a Bigfoot peering into houses, and other encounters at Pine Ridge.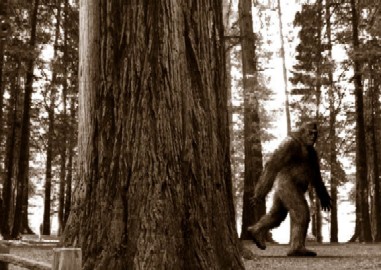 Click image for full-size version
An image of Bigfoot as drawn by Paul Smith, and sepia-colorized by Simon and Schuster designers for the cover of my book. The sightings from South Dakota appear to match the classic Bigfoot descriptions from the Pacific Northwest.
First, most recently, just a note that on Friday night, August 4, 2006, several young women reportedly had a sighting of a Bigfoot, although the full details are still forthcoming.
Then, during the early morning hours of Sunday, August 6, 2006, a new close encounter occurred. This breaking info was appreciated, having been heard on the police radio scanner and shared by my correspondent near there, Donovan Lone Hill.
Here's the latest:
* * *
At 1:20 am, a new report is heard crackling across the Pine Ridge Reservation police radio, conveying that a Bigfoot sighting is being filed to the police dispatcher at headquarters, north of Pine Ridge. A lady reports that a "tall, dark, smelly, hairy man" is being seen. The woman says that the Bigfoot is standing on the road, and would not move out of the way of her car.
The dispatcher asks the officers: "Who wants to atl Bigfoot?" (The phrase "atl" means "attempt to locate.")
An officer responds and says: "I'll do it, 10-8 North." (The police radio code "10-8" signifies "officer on duty" or "in-service." "North" may be the name of the officer, or the direction he/she took, in-service.)
The officer arrives at the site, then comes back on the radio and tells the dispatcher: "The dogs chased something down by the creek. Dogs came running back scared."
* * *
Officer apparently did not attempt further pursuit.
The report from the field ended there, at 1:55 am.
+++
Meanwhile on the investigative front, from Colorado, BFRO team member Dave Petti will be coming to Pine Ridge Reservation today, Sunday, August 6, to begin to examine what is occurring. A member of the Lakota Nation is driving out there with him, and a local tribal policeman will be driving them to areas of recent sightings.
Petti wrote me this morning: "I have been in discussions with a few people there, including police, and will be meeting with all….I plan on staying through Tuesday morning. I'm not aware of anyone else visiting currently."
I have learned from another source (not Dave Petti) that Petti is a good tracker, and had his own personal sighting some years ago. Best of luck to him for discovering some credible evidence and gathering specific details of these recent Pine Ridge encounters for the record to be shared with all researchers.
Loren Coleman – has written 5489 posts on this site.
Loren Coleman no longer writes for Cryptomundo. His archived posts remain here at Cryptomundo.