Posted by: Loren Coleman on January 19th, 2009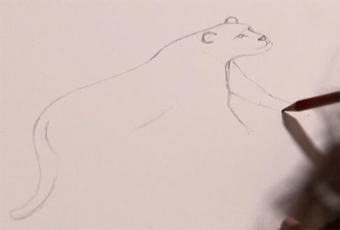 Dr. Darren Naish has brought to my attention his latest Tetrapod Zoology blog entry about the Pogeyan…
…the unresolved identity of a mysterious large cat. [Wildlife photographer and environmentalist] Sandesh [Kadur] saw this cat about ten years ago. His sighting occurred during broad daylight, in the high-altitude grasslands around Anamudi, the highest peak south of the Himalayas. Unfortunately the cat was not photographed or filmed.

It was large, long-tailed, and had rounded ears and a uniform darkish grey colour. It does not match any known cat, and might therefore represent a new species.

In an effort to film the animal, Sandesh set up a camera-trap (a chirping model of a black-capped chickadee was used as bait), and also used a heat-sensitive camera. Unfortunately neither effort yielded any images of the cat (an artist was shown sketching the cat. The head is shown below, and the whole thing at the top of the article. Both images © BBC).

However, Sandesh is not the only person to have seen this cat, for it's known to the local people (it is ethnoknown, as we say). They call it the Pogeyan, the 'cat who comes and goes with the mist'. So far as I can tell, the Pogeyan has not previously been mentioned in the extensive literature on mystery cats.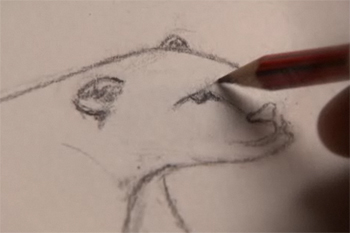 Naish considers whether or not it might just be a mutant leopard, if it is not a new species.
Loren Coleman – has written 5489 posts on this site.
Loren Coleman no longer writes for Cryptomundo. His archived posts remain here at Cryptomundo.