Posted by: Loren Coleman on November 22nd, 2007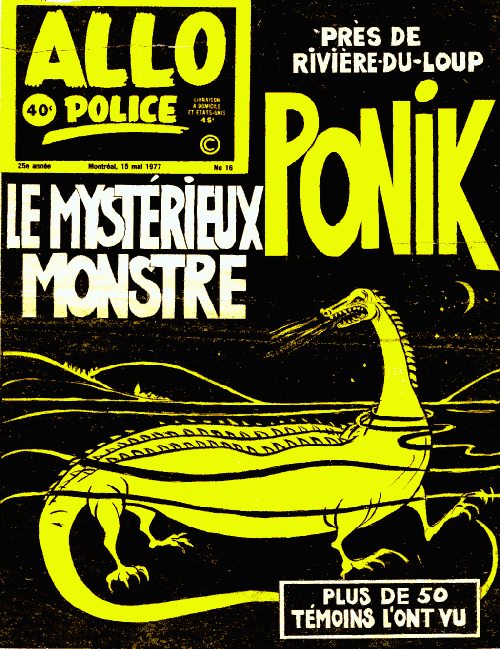 In The Field Guide to Lake Monsters, Sea Serpents, and Other Mystery Denizens of the Deep (NY: Tarcher/Penguin, 2003), I wrote that the aquatic cryptids seen in Lac Pohénégamook are "supposedly" some of "the ugliest-headed monsters around."
But "ugly" does not translate into disrespect or unloved in my book, and perhaps it is time to send the Poniks a little more love than usual.

For centuries people in Scotland have talked about a monster lurking in Loch Ness, called "Nessy." It turns out, just a few hours away from Bangor there is talk of a similar creature named "Ponik."

Natives of the Canadian border town of Pohenegamook first reported seeing a huge creature in the lake in 1873. Some people even feared the waters.

Guy Leblanc is the mayor of Pohenegamook. He, like everyone else in this modest town of 3,000, has heard the tales of the monster of the lake.

"Prehistoric monster, stuff like that or it was walking on the beach and flames were coming out of it's mouth, that's kind of the folklure side of the legend," said Leblanc.

Leblanc is one of several people who claim to have laid eyes on the creature. He says he saw Ponik in 1990, when he had taken some friends for a ride on his boat.

"I saw that kind of a wave it was kind of special, cause no boat was on the water except mine," said Leblanc. "We saw a big big fish beside my boat. He was swimming. And he was very nice. He swam about ten seconds for us and that was incredible."

Leblanc thinks what he saw was a giant sturgeon. Word of his sighting spread fast, and soon others were coming forward claiming to have seen Ponik.

"That's why that legend never stops," said Leblanc. "Always somebody every year saw something."

While some people describe seeing a giant fish, others have reported seeing a more serpant like creature with a snake like body, humps, flippers and a horse like head.

Still, there are those who think the legendary Ponik is just that a legend.

While many people claim to have caught a glimpse of the creature, no one has captured it's image. In 1997, an area business even offered a half a million doilars to anyone who could get a picture of Ponik.

Despite that, Ponik has it's own festival. And most people agree that the mystery makes for good tourism business.

Leblanc hopes Ponik lives in this lake as long as the legend has.

"We want him alive so the legend can carry on," said Leblanc. ~ by Heather Seavey, Managing Editor, "Lake Monster Legend Lives On In Northern Maine," Created: 11/20/2007 5:32:44 PM; Updated: 11/21/2007 10:41:47 AM; Portland, Maine, WCSH6.com,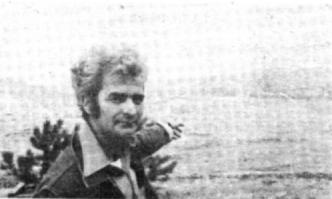 M. Fernand Asselin montre de la main l'endroit dans le Lac Pohénégamook où il a vu le monstre, près de la Base de Plein Air, lundi le 16 mai 1977.
Loren Coleman – has written 5489 posts on this site.
Loren Coleman no longer writes for Cryptomundo. His archived posts remain here at Cryptomundo.