Posted by: Loren Coleman on December 22nd, 2006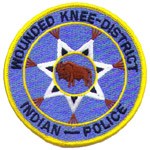 Seemingly, the number of sightings of the Bigfoot at the Oglala Sioux Pine Ridge Reservation in South Dakota have decreased since September 2006. Or at least that appears to be the case? Is it? If so, why?
The recent publication of my list, The Top Ten Bigfoot Stories of 2006, with number 3 being the accounts from South Dakota, has raised questions again about "why don't we hear about Pine Ridge any more?"
One line of speculation has been heard, asking, "Maybe the Big Man has traveled back to Canada?"
As Craig Woolheater has been blogging lately, there have been some encounters from last week recorded from Deschambault Lake, Saskatchewan. See his postings, here and here.
But Deschambault Lake, Saskatchewan, is in the northern part of the province, with a population of about 900, it is part of the Peter Ballantyne Cree First Nation. Probably much too far from South Dakota's Pine Ridge Sioux Reservation to have one really have anything to do with the other.
The reason for the quiet activity at Pine Ridge may be more related to a known ebb and flow of sightings there, due to the weather.
Cryptomundo correspondent Bill Kirby shared these insightful comments this week on the situation:
I can tell you that there is still activity on the Pine Ridge Reservation. It is much reduced [from what was occurring there] during the middle of summer. [This is routinely what] happens when a hard winter starts on the Reservation in October.
But the Tribal Police still receive reports each week. Plus some officers themselves have had recent sightings. There are still people actively out in the field. But when you have blizzards, people tend to stay inside more. Pine Ridge suffers the same problem as a number of areas; the place has no full-time researchers, plus everyone has school and their jobs that have to come first.
Perhaps you have more info?
Loren Coleman – has written 5489 posts on this site.
Loren Coleman no longer writes for Cryptomundo. His archived posts remain here at Cryptomundo.