Posted by: Loren Coleman on October 5th, 2010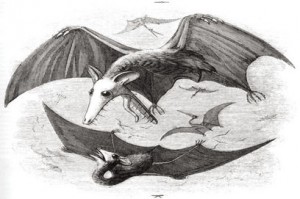 The new issue of Fortean Times contains an intriguing piece by Ulrich Magin:
FT267

Probably most children who take an interest in cryptozoology will have been influenced by their reading of Arthur Conan Doyle's great advent ure The Lost World (replaced for modern kids, no doubt, by a viewing of Spielberg's Jurassic Park!). I still vividly recall the scene where the Pterodactylus that Professor Chall enger has brought from the Lost World is last seen at Start Point by the liner SS Friesland, which is "passed by something between a flying goat and a monstrous bat."

In 1873, a similar story, actually reported as truth, appeared in many newspapers. The prehist oric beast is called a "vampire", assimilating the earlier legend of the bat-like bloodsucker with new palæontological discoveries.

The story, taken from the American newspaper Alta California concerns the adventures of the steamship Nevada in Micronesia:
Read the rest, here.
Loren Coleman – has written 5489 posts on this site.
Loren Coleman no longer writes for Cryptomundo. His archived posts remain here at Cryptomundo.