Posted by: Loren Coleman on February 10th, 2012
Yep, what a week. This has been an intensive few days of an Icelandic "River monster" on tape, an old Ohio trailcam Bigfoot, "Woolly Mammoth" footage, and a "Black Leopard" tape, so why not a purple squirrel? Difference is, the people that saw this strangely colored critter actually caught it.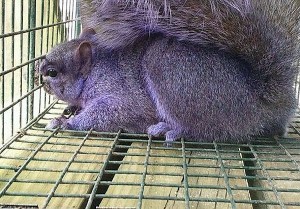 A couple in central Pennsylvania found a very unusual critter in their backyard — a purple squirrel.

Percy Emert said he and his wife, Connie, have cage-like traps in their yard to keep squirrels away from the bird feeders. Percy Emery then releases the squirrels into the woods away from his home but joked that sometimes they make it back to his house before he does.

"I came home (one day recently) and my wife said, 'You're not going to believe it but I saw a purple squirrel in the yard,'" he said Thursday. "So I put out a trap with a couple of peanuts inside."

Before too long, the squirrel came back and found itself in the trap Sunday.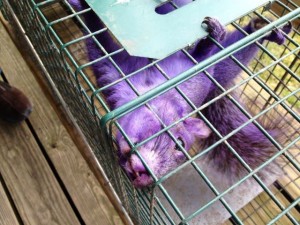 What they found in the trap was a purple squirrel. After keeping the squirrel around for a few days so neighbors could take a look at the strange creature, Percy Elmert released the squirrel back into the wild Tuesday night.
Purple squirrels are rare animals, indeed, but they now have their own Facebook page. And they have been reported before. A purple squirrel was sighted in Minnesota in 1997, and photographed (above) by Maren Nelsen Beckman. In 2008, a purple squirrel (below) appeared near the Meoncross School in Stubbington, Hampshire, UK.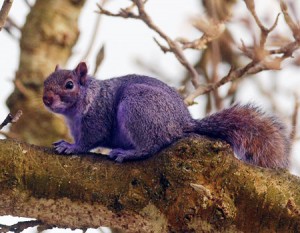 Of course, in the past, at Cryptomundo, we have spent some time on albino and melanistic, even black and white, squirrels (see here and here). It only seems fair to note purple ones this week.
Thanks for the heads up (that's a purple heads up, of course) about this Jersey Shore 2012 purple squirrel, sent to Cryptomundo, from Susan Cherico and Philip A Compher.
Loren Coleman – has written 5489 posts on this site.
Loren Coleman no longer writes for Cryptomundo. His archived posts remain here at Cryptomundo.