Posted by: Loren Coleman on August 30th, 2007
I've spent some time here discussing melanistic or black squirrels.
It seems only logical, perhaps even nuts, to not ignore the significant publishing of an article in today's New York Times regarding some squirrel lore that can be seen to unfold in the coming weeks. What is being set up is a testable experiment.
If a scholar of Norse mythology had been in the stands of Yankee Stadium on Tuesday night, he or she probably would have advised Yankees fans to not make too much out of the 5-3 victory against the Red Sox.

The result, after all, still left the Yankees trailing Boston by an imposing seven games in the American League East. But more significant, perhaps, was the pesky and distracting squirrel that scampered up and down the right-field foul pole during the game and that, according to Norse mythology, just might have foretold that the Yankees will not prevail over the Red Sox this season.

Believe it or not, the squirrel's actions closely resembled those of Ratatosk, or "gnawing tooth," a squirrel in Norse mythology that climbed up and down a tree that represented the world. Snorri Sturluson, an Icelandic scholar and poet, recorded the story in his 13th-century work "Prose Edda."

As the story goes, Ratatosk carried insults as it traveled to opposite ends of the tree, fueling a rivalry between the evil dragon residing at the bottom of the tree and the eagle perched at the top.

"Oh, that's perfect," said Roberta Frank, a professor of Old Norse and Old English at Yale University, when told of the squirrel's antics at the stadium.

Frank was born in the Bronx and is a Yankees fan. She said in a telephone interview yesterday that in the Bronx version of this myth, the Yankees would probably represent the eagle and the rival Red Sox would represent the dragon. The Yankees, after all, are the home team this week, more or less making them the good guys. And if there were a sports team identified with an eagle, it has to be the Yankees, who have begun any number of postseason games with a visit from Challenger, the bald eagle who swoops in from center field.

But being the eagle is not such a good thing, Frank noted.

"The dragon will destroy the world in Norse mythology," she said, adding that the eagle would be on the losing end of a battle that was only made worse by the malicious squirrel.for the complete article, see "For Yankees, Squirrel's Visit May Be Omen (a Bad One),", by Teddy Kider, New York Times, August 30, 2007.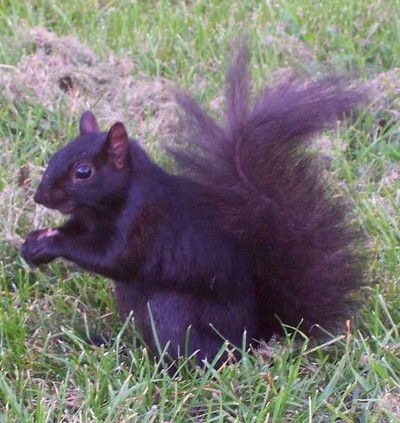 Being a member of Red Sox Nation, my loyalities are not in doubt. I'm on the side of the squirrel.
Loren Coleman – has written 5489 posts on this site.
Loren Coleman no longer writes for Cryptomundo. His archived posts remain here at Cryptomundo.