Posted by: Loren Coleman on September 21st, 2011
Catch Strange Animal
Hopping Along Highway
Washington, Pa., Aug. 22 (AP) – An "animal without a name," which goes for vegetables and nuts in a big way, had the townsfolk puzzled today. No one could identify it.
The "watcha-call-it" has been viewed by hundreds since Saturday, when, hopping along the road like a kangaroo, it was corralled by a group of men and boys.
Its rear legs are like a kangaroo's, its head and ears resemble those of a squirrel, and the eyes and nose bring to mind a rabbit. Its hair varies from brown to green.
Game Protector Carl Stainbrook is investigating whether the animal escaped from a carnival sideshow.
"I never saw anythink (sic) like it," he said. "I searched through a book on the mammals of America and can't find anything like it."
Source: Reading, Pennsylvania
Reading Eagle
August 22, 1939
Reports of cryptid kangaroos or at least cryptids that look like kangaroos are nothing new, as I write about in Mysterious America.
∆∆∆∆∆∆∆∆∆∆∆∆∆∆∆∆∆∆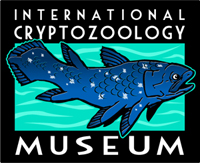 Support the new, enlarged, physical location and our move/redesign of the International Cryptozoology Museum™ in downtown Portland, Maine. Help us meet the new expenses for this great adventure.
Please click on the button below (not the CM one up top if you wish to give to the museum) to take you to PayPal to send in your donation.
If you wish to send in your donation via the mails, by way of an international money order or, for the USA, via a check or money order, please use this snail mail address:
Loren Coleman
International Cryptozoology Museum™
PO Box 360
Portland, ME 04112
Thank you, and come visit the International Cryptozoology Museum™ in Portland, Maine.
Loren Coleman – has written 5489 posts on this site.
Loren Coleman no longer writes for Cryptomundo. His archived posts remain here at Cryptomundo.