Posted by: Loren Coleman on March 23rd, 2009
Panic gripped Australian theme park in southern France when 15 kangaroos were found missing Saturday, March 21.
While 13 kangaroos were found Sunday, March 22, following a major search operation, three marsupials are still at large.
"When we arrived on Saturday morning, five pens had been broken open, their padlocks were smashed and the perimeter fence was torn in several places," said Carole Masson, owner of the nature reserve in southwestern Carcassonne."We had 15 missing kangaroos — it was complete panic," she said.
Firefighters, police and gendarmes were mobilized to track down the animals as they bounded through the woods.
"We found five in the park, and some more in the woods nearby. But three are still out there somewhere," Masson said, adding that local drivers have been alerted the animals could stray onto a nearby highway.
Meanwhile, whatever happened to that zebra in Ohio?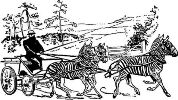 Push the right button, this one below…to send help along at a critical time…please, do…
It is the right button to click and you'll feel good about it, too.
Loren Coleman – has written 5489 posts on this site.
Loren Coleman no longer writes for Cryptomundo. His archived posts remain here at Cryptomundo.