Posted by: Loren Coleman on February 1st, 2011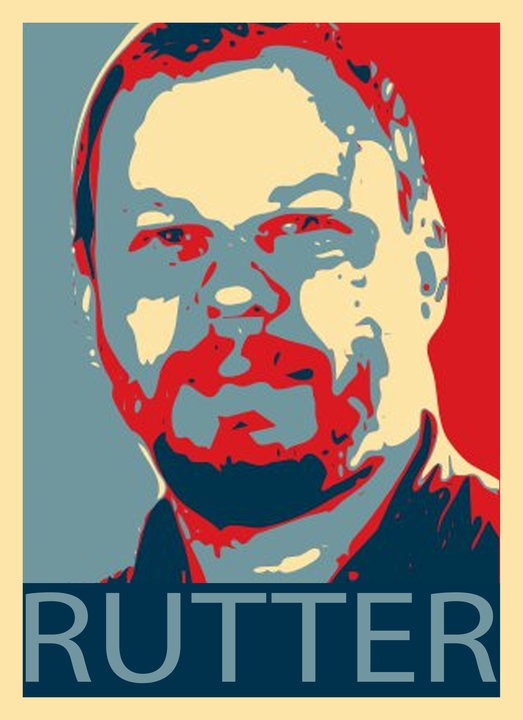 Today, February 1, 2011, is the birthday of researcher Gordon Rutter.
In 2006, Edinburgh's Scotsman highlighted one of my favorite person's cabinet of curiosities. Gordon Rutter is a specialist in the weird world of Fortean wonders and cryptozoological artifacts. A mycologist (yep, a mushroom and fungus expert) by trade, having worked in museums during his career, Gordon nowadays is a teacher and writer living in Scotland. It was with Gordon that my sons (Malcolm & Caleb) and I stayed in 1999, before our trek took us onward to Loch Ness.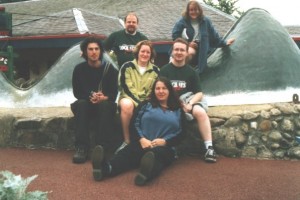 Gordon Rutter is seated in the back, in this photo taken during a past Loch Ness Monster Convention, 1999. Photo Credit: Alison Clayton.
The Scotsman overviewed (in 2006) Rutter's collection of about 100 weird and strange items in his personal cabinet of artifacts:
When you walk into the front room of Gordon Rutter's Edinburgh flat, the sofa's there, but squeezed between his one-eyed pig, his feejee mermaid, his skull collection and of course – the must-have for every cryptozoologist Scot – a miniature Loch Ness Monster. For Rutter is one of a dying breed of gentlemen-collectors – people who hunt down and collect the unusual, the different, if we're being honest … the downright weird….His living room is home to things as diverse as a ten-legged spider, a petrified teddy bear, a shrunken head (banished to the hall as it smells), a couple of mermaids and a cast of his own teeth.
The following photograph shows some of Gordon's items (including a replica of the Piltdown skull up front), not published with the story: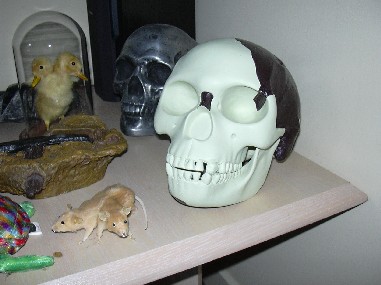 The article continues, mentioning his jackalope and a fur-bearing trout, and moving on to other items in his collection:
…fossilized fingers, rings that belonged to (real) giants, a painted bowl made from a human skull, an ostrich egg mounted on an ostrich foot ('why not?'), plus a whole lot of other weird things…He has now become well-known as a collector of the unusual and people come to him with the offer of items for sale. He is presently mulling over whether or not to buy a seven-legged lamb – a bit pricey at £1,500 – but found himself unable to resist his latest acquisition, a genuine Cyclops piglet….The little pig, with its freaky single eye, sits beside his computer screen, under the jackalope (half rabbit/half deer) and close to his stuffed crocodile.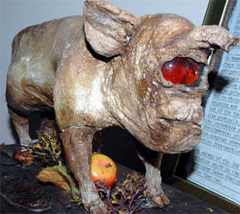 As opposed to a "dying breed" of gentlemen (and a few gentlewomen) collectors, I actually think that Gordon and I (now publicly exhibited in the International Cryptozoology Museum) are two examples of a new growing breed, stimulated by personal collections, contacts, and online sources, of the new trend of gatherers of such curiosities.
Photographs by Gordon Rutter. Copyright 2006, 2011. Permissions granted.
Loren Coleman – has written 5489 posts on this site.
Loren Coleman no longer writes for Cryptomundo. His archived posts remain here at Cryptomundo.