Posted by: Loren Coleman on February 17th, 2008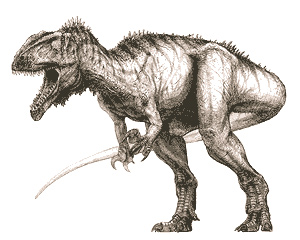 Eocarcharia dinops
Fossil hunters have discovered two new meat-eating dinosaurs thanks to the fossils unearthed from the sands of the Sahara, according to media reports during the last week.
The fossils represent previously unknown ferocious dinosaur predators that roamed the Earth about 110 million years ago during the Cretaceous Period, University of Chicago paleontologist Paul Sereno and co-author Stephen Brusatte reported in the journal Acta Palaeontologica Polonica.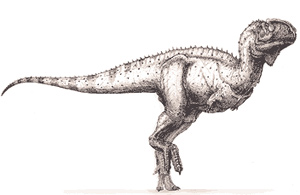 Kryptops palaios
They named one Kryptops palaios, or "old hidden face," because of a horny covering over its face. The other was named Eocarcharia dinops, or "fierce-eyed dawn shark," for its razor-sharp teeth and bony brow.

Both were about 24 feet (8 meters) in length — and on the prowl for meat. Researchers believed Kryptops was a scavenger and had a uniform series of relatively pointy teeth and a short snout, whereas Eocarcharia was definitely a sabotage attacker, waiting for an opportunity to jump at something.
The two creatures lived at a time when land bridges connected Africa to India and even Antarctica, which was then a temperate home to dinosaurs. But Africa later became isolated and its dinosaurs followed unique evolutionary paths scientists have just begun to uncover.
"This is an important slice in geological time, and we don't yet fully comprehend how dinosaurs on the southern continents were evolving then," said Peter Makovicky, curator of dinosaurs at the Field Museum, who was not part of the Chicago team.
(Sourced from various news services.)
Loren Coleman – has written 5489 posts on this site.
Loren Coleman no longer writes for Cryptomundo. His archived posts remain here at Cryptomundo.